Improve aircraft fuel efficiency, structural performance, aerodynamics and many other aspects of aircraft design with ESTECO technology, used by major organizations such as Embraer, Leonardo, Gulfstream, EADS and ONERA.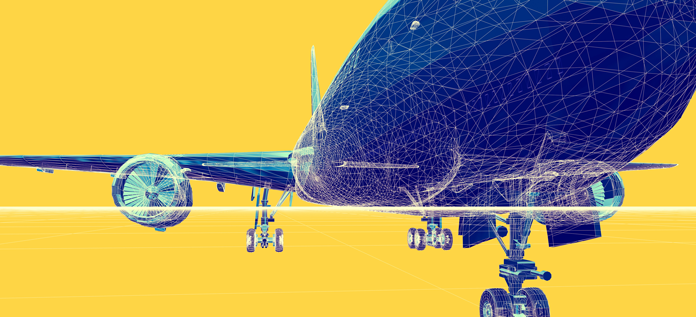 Today's aerospace and defense industry faces many challenges. Due to the projected growth of air traffic, commercial airplane manufacturers see a strong need to minimize fuel consumption, emissions and noise, in order to satisfy consumer and regulatory constraints.
Since these requirements typically lead to conflicting design objectives across several domains, employing Multidisciplinary Design Optimization (MDO) in the design process is crucial. Military airplane manufacturers on the other hand have an entire different set of challenges to solve, mostly involving aircraft performance, power and thermal management requirements and energy efficiency.
The aerospace industry has traditionally often used conservative design methods with a siloed approach between different disciplines. To meet future challenges however, more innovative technologies are needed, and collaboration will be key, not just among different design departments, but also between OEM and suppliers. ESTECO's technology is designed to do just that.
Supporting designers in integrating disciplines and balancing multiple, opposing objectives
modeFRONTIER
supports design teams in building a multidisciplinary design framework, which allows for design space exploration, optimization (direct and RSM based), trade studies and sensitivity analysis, robust design and reliability, visualization and multi-criteria decision making. ESTECO proprietary algorithms deliver reliable methods for identifying the best solutions possible when dealing with complex multidisciplinary aerospace design problems.
Keeping people, processes and technologies together
VOLTA
, the web-based design optimization environment, enables engineers to collaborate on the design of all aircraft components and subsystems at once and speed up the decision-making process. VOLTA - ESTECO solution for enterprise-wide collaboration - helps manage all cross-functional concurrent design steps by integrating multiple modeling formats. Its service-oriented architecture facilitates the execution, sharing and re-use of the enterprise engineering knowledge.
Applications of ESTECO technology
in the aerospace industries
modeFRONTIER is used by major companies and institutes in aerospace, such as Embraer, Gulfstream, EADS, and ONERA. Engineers in the field use modeFRONTIER for:
wing design and aerodynamics

fuselage shape

aircraft structural components

aeroelastic systems

micro-air vehicles

acoustic emissions

metal sheet thermal forming

impact damage prediction

turbine blades

composite materials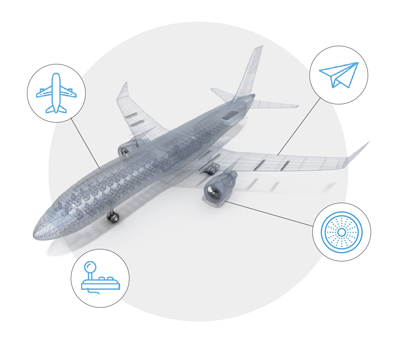 Few examples: