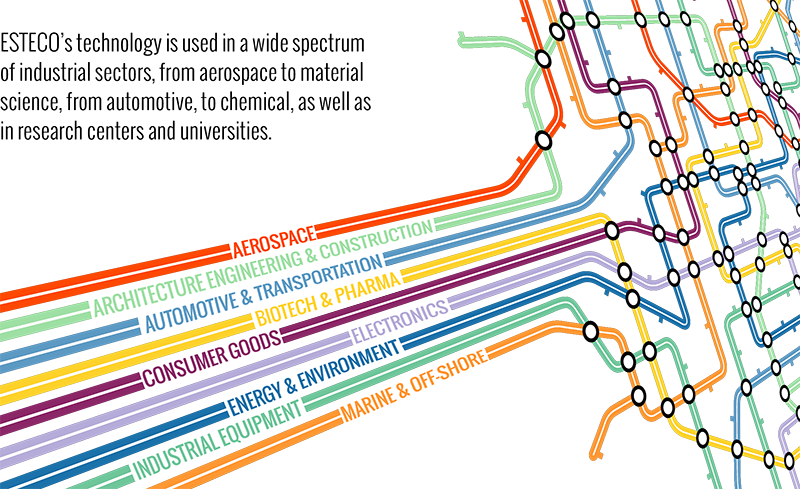 Aerospace

Improve aircraft fuel efficiency, structural performance, aerodynamics and many other aspects of aircraft design with ESTECO technology, used by major organizations such as Embraer, Leonardo, Gulfstream, EADS and ONERA.

Architecture Engineering & Construction

Simulation and process automation is an essential aide for construction engineers. modeFRONTIER optimization platform helps gain comprehensive insight regarding the impact of design choices on building performance, even before starting the investment.

Automotive and Transportation

modeFRONTIER has been widely used by players of the automotive sector and a number of success stories testify the advantages of automating and optimizing the analysis linked to vehicle development in the structural, fluid dynamic, crash&safety, multi-physics, multi-body and many other disciplines.

Biotech & Pharma

With modeFRONTIER, scientists and researchers are able to reduce experimental time, to streamline data assessment and to automate processes, by drawing on well-established engineering optimization and numerical modeling technologies.

Consumer Goods

modeFRONTIER's unique features for process automation and multidisciplinary optimization enable quicker and less expensive product development, by reducing the need for physical testing and by efficiently identifying the optimal design solution.

Electronics

modeFRONTIER optimization and automation platform allows savings of time and cost of physical testing, by providing a framework to analyze electrical parameters and simulate electromagnetic fields.

Energy & Environment

modeFRONTIER is an ideal platform to evaluate and improve new energy concepts and has been used across a wide spectrum of application, including wind turbine design, maximization of the efficiency in power management networks, optimizing energy harvesting, reduction of carbon emissions.

Industrial equipment & Turbomachinery

Integrated with modern CAE solvers, modeFRONTIER enables sophisticated optimization campaigns, and process automation in designing components and sub-systems. This technology leads to important cost and time savings by avoiding physical testing and project delivery delays.

Marine & Off-Shore

Multidisciplinary optimization studies performed with modeFRONTIER lead to improved ship and platform design with better stress distribution, stability and hydrodynamics. modeFRONTIER supports the marine industry by enhancing performance of safer, more resistant and less expensive vessels, ship components and offshore platforms.