Company story
In the late 1990's, three Italian Engineers, Carlo Poloni, Luka Onesti and Enrico Nobile, created a spin off company turning the knowledge acquired during a European Union funded project on design optimization into a successful commercial product.
Partners involved in the EU "Frontier" project included: British Aerospace, Parallab (Norway), Università di Trieste, University of Newcastle, Daimler-Benz Aerospace (Germany), Defence Evaluation and Research Agency (UK), Electrolux-Zanussi (Italy) and Calortecnica (Italy). The aim was to develop a technology able to drive industrial competition throughout Europe for the years to come.
At the end of the project, EnginSoft SpA was appointed as a sub-contractor to evaluate the commercial potential of a software called "Frontier". Thanks to the positive results, EnginSoft and the three researchers decided to create a new company acquiring the IP of the project. In 1999 ESTECO was founded offering a multi-objective optimization platform called modeFRONTIER.
ESTECO received acknowledgements from around the world and its internationalization strategy, including partnerships and investments in local support and sales activities in the USA, Europe, Brazil, Japan and South East Asia, brought it closer to worldwide clients and markets. Along with major commercial partnerships like IDAJ in Japan and Enginsoft S.p.A. in Europe, ESTECO opened a hub in North America in 2004 and ESTECO Software India Private Limited, in 2012.
The company's headquarters is located in the AREA Science Park in Trieste (Italy), a thriving environment for research, development and innovation. ESTECO's turnover has grown steadily in double digits throughout the years as has the number of employees. Currently ESTECO employs 70 professionals and serves all continents.
The organization
The company philosophy encourages continuing professional development by investing in young, highly educated and skilled staff: 90 per cent hold a master degree and 25 per cent have a PhD, ranging in discipline and specialization. As well, ESTECO promotes multidisciplinary exchange between teams and functions, and thrives on its orientation towards research and continuous innovation. Together, our organization embraces the agile software programming method to accelerate our response to customer needs.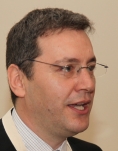 Carlo Poloni is currently a Professor of Mechanical Engineering at the University of Trieste (Italy). After graduating in 1987, he worked in the space division of Aeritalia (Italian aerospace company) and for the Sincrotrone Trieste, before joining the University of Trieste as a researcher focusing on Multidisciplinary Design Optimization. Later, he co-founded ESTECO and is currently the President of the company. He has published more than 100 papers in refereed journals and proceedings. As well, he currently works as a consultant for international companies and organizations. In January 2013, he was appointed a member of the board of the Italian Chapter of INCOSE.

Luka Onesti graduated in Electronics Engineering at the University of Trieste and has an MBA from MIB School of Management. He collaborated as a visiting researcher at the University of Bergen (Norway), where he took part in the European funded project "Frontier". After which, he co-founded ESTECO and participated in the original modeFRONTIER development team. He is currently Chief Technology Officer for ESTECO, in charge of leading and coordinating the software development teams.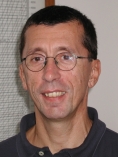 Enrico Nobile, Mechanical Engineer, is Full Professor of Thermodynamics and Thermal-fluids at the University of Trieste. He has a post graduate degree diploma from Von Karman Institute for Fluid Dynamics (VKI) in Belgium. He is one of the founders of ESTECO, and he is the author or co-author of more than 80 scientific publications. He was President of NAFEMS Italia and collaborated with many research institutions including New Brunswick University (Canada), Politecnico di Milano and Consorzio Padova Ricerche. He currently works as Scientific Advisor for the company.
Code of Ethics
The Board of Directors of ESTECO has adopted a Code of Ethics to define the commitments and ethical responsibilities in its business conduct.
The Code of Ethics promotes - both inside and outside ESTECO - behavior inspired by ethical principles that are at its core, as summarized in the first pages of the Code, which is a fundamental component of its Model of Organization and Management as intended by the Legislative Decree the No. 231/01, in the belief that ethical business conduct represents a prerequisite of the company's success.