​
The Grid Toolbox is the queue manager system embedded modeFRONTIER for the efficient distribution of computational workloads and parallel executions on a local network.
By monitoring the Agents running on remote machines, users can set up and control the overall parallel execution from the Grid Manager and fully exploit the power of the automation engine of modeFRONTIER.
Multi-disciplinary simulation software tools running on different OS are combined within an integrated optimization system, making license management easier and centralized.
Benefits from modeFRONTIER Grid Tool:
Consistently reduce computational effort in terms of time and resources​: minimize downtime, while integrating different OS machines
No scripting effort required
Automatic transfer files via direct integration node: no sophisticated file sharing system required
modeFRONTIER direct integration nodes act as interface
Works as queuing system
Integrated load balancer
Easy configuration
No license needed for Agents on remote machines preference settings are centralized
Compatible with all OS Platforms
A FEW EXAMPLES
Performing a system optimization that involves a large number of design variables and computationally expensive analysis is possible but not always practically feasible. As a solution, the optimization process can be made more efficient if the designers can analyze the problem characteristics a priori and use the information to reduce the problem complexity.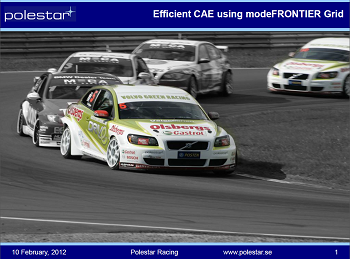 After studying the influence on lap time for a given circuit using modeFRONTIER, Polestar Racing needed to repeat the simulation for all circuits in the TTA championship. By using three computers in managed by the Grid Tool the computational efficiency increased of 181%. Read the details!