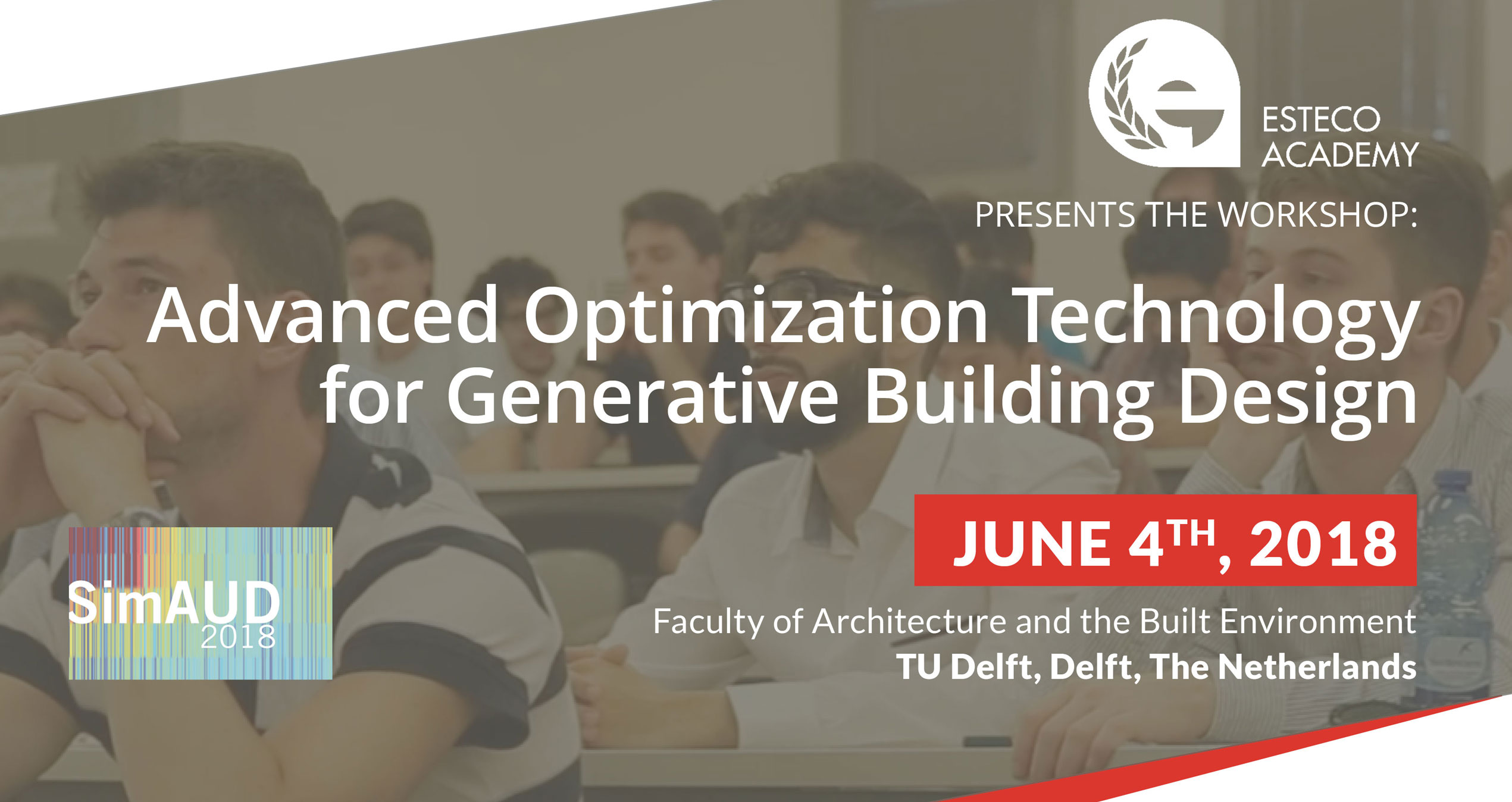 Monday, June 4, 2018 - 09:00

Faculty of Architecture and the Built Environment
ESTECO Academy Workshop @Simaud 2018
We are pleased to sponsor and partecipate in the SIMAUD 2018 event, that will be held from 4 to 7 June at the Delft University of Technology in the Netherlands. Our experts will also propose an 
ESTECO Academy 
workshop on Advanced Optimization Technology for Generative Building Design.
Full SIMAUD 2018 conference program in available here. 
Monday, 4th June 2018 | ESTECO Academy Workshop at SIMAUD 2018
Presenter: Alberto Clarich, Technical Manager, ESTECO
The objective of this 6-hour workshop is to demonstrate to architecture and civil engineering students, researchers and practitioners familiar with digital design tools, the – still unexplored – potential of combining optimization technology in building and architectural modeling. Participants will hear about successful applications from the AEC industries and will have the chance to try the leading multidisciplinary optimization (MDO) platform modeFRONTIER, being guided by ESTECO experts providing training, tips and advices.
This way of working redefines engineering workflows and potentially, the roles of architect and engineer in the design process. The danger here -- something we are consciously avoiding -- is an anemic understanding of optimization as a reductive quest for efficiency rather than as a generative design process which can result in architectural 'species' characterized by both efficiencies and excesses.Tom Wiscombe Architecture - Cheongna City Tower project, 2008
The workshop registration is free for participants already registered for SimAUD 2018 (conference registration). A fee applies to participants who are not registered for the conference (full fee: $70, students fee: $25). The workshop registration includes coffee breaks and a light-lunch. No refund is possible in case of attendance's cancellation after May 15th.
Participants should bring their own laptop; after registration has been confirmed, we will provide attendees with the modeFRONTIER software package and installation support.
Full Day - Min: 5 participants - Max: 20 participants
WORKSHOP AGENDA
INTRODUCTION  
> 9-10am
•    Optimization in AEC | success stories: generative design, light simulation, structural analysis, NZEB 
•    Introduction to modeFRONTIER: software environment and main features
OPTIMAL BUILDING DESIGN: Integrating AEC modellig & analysis tools with modeFRONTIER  
> 10am-5pm
•    Parametric modelling with Rhino/GrassHopper 
•    modeFRONTIER workflow set up: direct integration node, parameter chooser, linking parameters to objectives and constraints
•    Optimization Strategies and Algorithms: Hands-on example - Optimization setup and execution; post-processing tools
•    Execution monitoring and post processing: decision support tools and final design choice