ESTECO Academy sponsors the International CAE Conference "Poster Award" 2016
ESTECO Academy is proud to be a co-sponsor, along with EnginSoft, of this year's International CAE Conference "Poster Award". The Conference, dedicated to engineering simulation, will be held on October 17th-18th, 2016 in Parma (Italy).
The "Poster Award" - open to students, graduates, researchers, and academics from different universities - is a contest dedicated to recognizing the engineers' creativity with CAE technologies illustrated on posters. The participation is free of charge and the best five posters will be awarded with a prize pool of 5000€ offered by EnginSoft.
Moreover, ESTECO will provide to the top five teams a complimentary membership of the ESTECO Academy program, including a yearly modeFRONTIER software license and access to online training materials.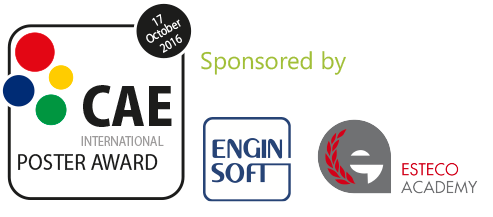 To take part in the competition register here.
The deadline for submitting posters is September 30, 2016.