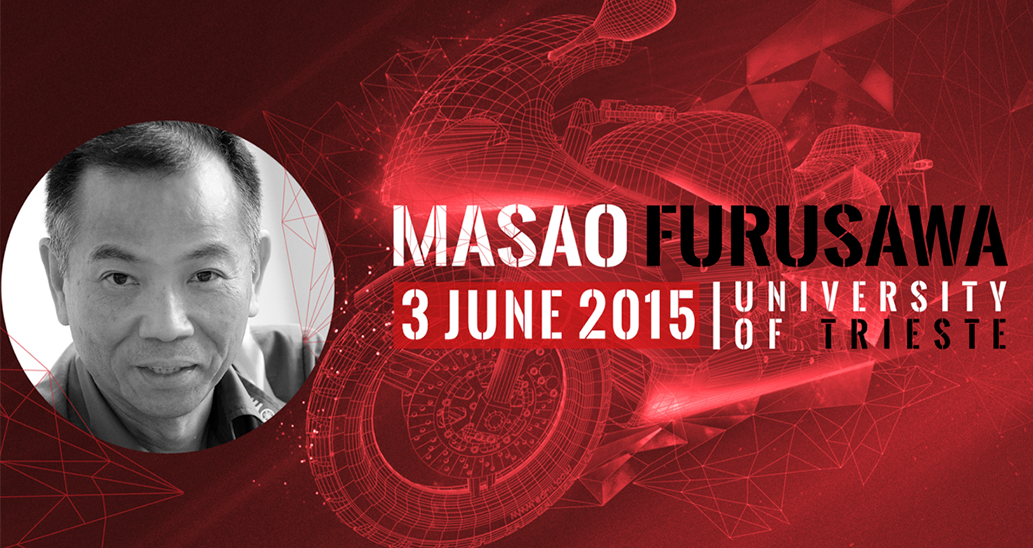 Wednesday, June 3, 2015 - 02:00
Masao Furusawa | Technical Workshop and Honorary Degree Ceremony
On June 3rd 2015, Masao Furusawa, motorcycle engineering guru and former head of the MotoGP program at Yamaha, will receive an honorary degree from the University of Trieste. While the conferment ceremony will be held in the afternoon, in the morning Mr. Furusawa will be the guest of honour ​during a Motorcycle Racing Design Technology Workshop.
The event, promoted by ESTECO Academy in collaboration with the University of Trieste, will gather a panel of experts discussing about the most innovative trends and practices in motorbike design.
Motorcycle Racing Design Technology Workshop
Aula Magna H3 | 10 AM
| | |
| --- | --- |
| 10 AM | Registration |
| 10:20 - 10:30 AM​ | Prof. Enrico Nobile | Head of the Mechanical Engineering program, University of Trieste |
| 10:30 - 11:00 AM​ | Masao Furusawa: "Orthogonal Engine Mount System" |
| 11:00 - 11:30 AM  | Andrea Friso | Racing Operation Consultant: "Quick Development Methods for Two Wheeled Vehicles" |
| 11:30 AM - 12:00 PM | Diego Minen | VI-grade: "High Performance Ride&Handling All-in-the-Loop Simulators for Automotive Engineering" |
| 12:00 -12:30 PM | Interactive Session |
​ 
Admission is free; advance registration required.
Conferment Ceremony of the Honorary Degree
Aula Magna CENTRAL BUILDING | 3 PM
| | |
| --- | --- |
| Welcome Speech | Prof. Maurizio Fermeglia | Rector of University of Trieste  |
| Motivation - 3.00PM | Prof. Paolo Rosato | Head of the Engineering and Architecture Department  |
| Laudatio - 3:20PM | Prof. Carlo Poloni | Associate professor of Machinery Design, University of Trieste  |
| 3:40 | Conferment of the Honorary Degree  |
| Lectio Magistralis 4:00 | Masao Furusawa  |
​ 
Admission is free
​ 
MASAO FURUSAWA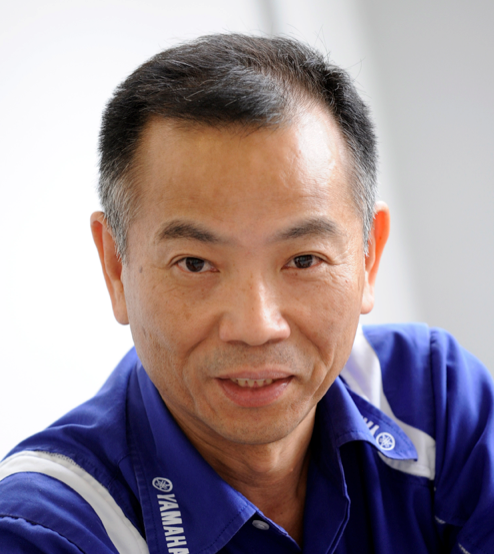 ​Masao Furusawa (1951) was born in Kyushu, an area of intellectuals, merchants and samurai and it is where he fell in love with science, history and karate. He joined Yamaha in 1974 and introduced values typical of the samurai culture like honour, respect, commitment, sacrifice and determination to the company. He started studying numerical and experimental methodologies on vibrations, developing a modal analysis code widely that was adopted also by other companies. In 1980, he developed an orthogonal assembling structure for the motorcycle engine (adopted for the first time on a RD350LC) and in 1988 he became the head of the R&D department. Between 1992 and 1998 he was responsible for the design of snowmobiles, allowing Yamaha to reach a position of technological leadership through a series of patents. In 2003, he became chief of the Technological Division of Yamaha Racing, which in that moment was going through a difficult period. He decided to reorganize the working system assuming also the responsibility for the YZR-M1 MotoGP project. One year later, Yamaha won the world championship with Valentino Rossi. From that project the new generation of M1 was born which Yamaha still uses today. From 2005 to 2012 Furusawa was Executive Officer for Yamaha Motor Co. Ltd. After his retirement in 2010, he founded a consulting firm (F-MA Consulting Limited) and today continues his studies on vibrations and mechanics.