TU Delft optimizes Trombe wall thermal performance with ESTECO Technology
We provided our engineering data intelligence capabilities for the Double Face 2.0 research project. The Trombe wall prototype was recently exhibited at Venice Biennale of Architecture 2018 where many people from all over the world could see the results of this 2-year project.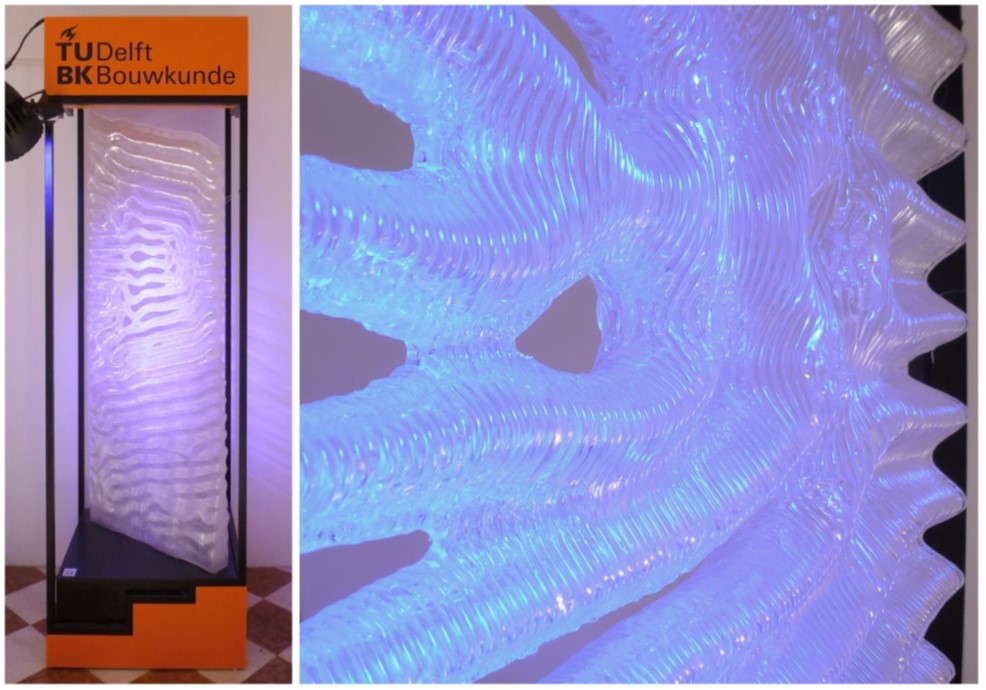 This research focused on a specific demonstrator: a novel type of Trombe wall. It consists of a new system that passively improves thermal comfort using new lightweight and translucent materials for latent heat storage.
Researchers at TU Delft, Architecture and the Built Environment department used novel production techniques, like 3D printing, to explore their potential for creating high quality translucent and highly performative products. While dealing with the use of engineering performances as principles to trigger design creativity, ultimately, this research resulted in a set of design concepts and prototypes. From the designs and prototypes, knowledge regarding thermal performances and daylight transmittance of innovative materials (PCM, aerogel) and production techniques (3D printing) was generated. 
Next to the development of geometric modellers and performance simulations, evolutionary algorithms have been used to optimize thermal comfort. This topic was also part of a recent MSc Thesis on "The energy and Comfort Performance of a Lightweight Translucent Adaptable Trombe Wall in Different Buildings and Climate",  at the Faculty of Civil Engineering & Geosciences, Delft University of Technology. In particular, the influence of eight parameters (climate, building function, orientation, age, building method, room size, window size and type of glazing) on the energy and comfort performance of the innovative Trombe wall has been investigated using modeFRONTIER analytics and visualization tools to assess the reduction or increase in energy demand for heating and cooling.
Learn more about Double Face 2.0 Research Project