Aerodynamic optimization of a 125 cc motorbike rear cowl
MotoStudent is an international university competition whereby universities from different countries compete by producing a racing motorbike design entirely made by them. In this scope, the EME-UPM MotoStudent team from the Polytechnic University of Madrid signed a patronage agreement with AperioTec as its technology partner in the form of a training course and a license to use the modeFRONTIER software, and the agreement with CD-adapco to use the CFD Star-CCM+ V5 software (computational fluid dynamics).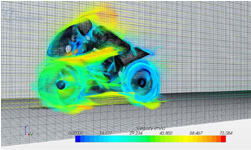 125cc motorbike racing is among the most demanding competitions from all possible standpoints. Given that the engines fitted on these vehicles are not very powerful (34 the engine for the MotoStudent 2010 competition), it is vital to focus on all construction details with the goal of increasing the bike speed and thus reduce the lapse time. The improvements, then, in the lapse time of a 125cc bike are obtained by focusing all efforts on detailed aerodynamic and weight reduction analyses in order to make the most of the poor engine power and the reduced weight in the bends. Well aware of this, the EME-UPM MotoStudent team planned the design/manufacture of a carbon fibre rear cowl with a self-bearing architecture (without subframe) in order to save weight in the rear (and higher) portion of the bike, which does influence the centre of gravity, hence the dynamic qualities, of the whole vehicle. The design was optimized with modeFRONTIER – Star-CCM+ and retrospectively calculated in order to determine the number of fabric layers needed to support, without straining, a 250 kg load concentrated on the rear cowl seat.