International CAE Conference and Exhibition 2018
ESTECO is proud to sponsor the 34th edition of the International CAE Conference and Exhibition, the annual international event on "Engineering Simulation in Industry 4.0" which will be held on October 8-9 in Vicenza, Italy.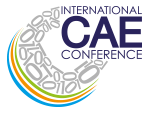 This year's CAE Conference will deeply explore how Engineering Simulation is evolving to embrace and even progress the different technologies that are contributing to the development of Industry 4.0.
A key advantage of Engineering Simulation is its ability to reveal the unseen and unexpected potentialities of product engineering and of the product manufacturing process. These potentials can then be developed and exploited to lower costs, improve productivity, optimize resources, to enhance existing products and services, and to identify possible new products, services, and even markets.
The event will be the opportunity for all sector stakeholders covering industry, academia, research and software vendors to increase the relevance of simulation.  
During the conference, don't miss these speeches below:
AEROSPACE 

ad DEFENSE Session > Alberto Clarich, Engineering Team Manager, Combining Adjoint Optimization and mesh morphing for CFD applications
OIL & GAS Session > Marco Turchetto, Support Engineer, Optimization of Compressed Natural Gas transportation Vessel: Gasvessel project
SMART PRODUCTS & IOT Session > Alexandre Mugnai, Business Development Manager, ADAS systems Robustness analysis, and optimization: a way to assess the function's performance
VISIT OUR BOOTH TO LEARN MORE ABOUT THE ESTECO TECHNOLOGY
On October 9th, 2018 a full workshop session will be dedicated to the Workflow Modeling for Collaborative Engineering, with an introduction to BPM and possible applications followed by a second part that will reveal how to efficiently manage the myriad flavors and types of in-house and third-party CAD, CAE and general-use software within an organization.

ESTECO experts will show how to build an integrated workflow, managing and automating all the logical steps of the engineering process, while exploring how efficient workflow-modeling simplifies and accelerates the entire design process.