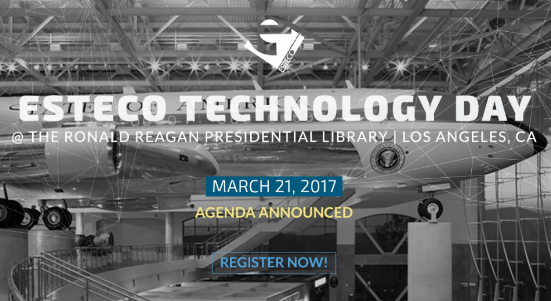 Keynotes announced: NASA, Air Force and Lucid Motors join the ESTECO Technology Day lineup
As the inaugural ESTECO Technology Day is approaching,  we are pleased to announce three high-profile keynote speakers who will join the lineup at the Ronald Reagan Presidential Library on 21 March, 2017: Adam Wroblewski from the NASA Glenn Research Center, Darcy Allison and Steven M. Iden from the Air Force Research Laboratory and David Moseley from Lucid Motors.
For the past 9 years, Adam Wroblewski has been a research engineer in the Optics and Photonics Branch at the NASA Glenn Research Center. Currently, he works in areas of deep-space optical communications, optical fluid measurements, and bio-inspired concepts, with particular interest in multi-physics analyses and multi-objective optimization. He has supported and led many assignments at NASA ranging from turbine jet nozzle research to supersonic parachute deployment testing for the Mars Science Laboratory (MSL), providing optical flow diagnostics and computational fluid dynamics analysis.

Darcy Allison is a research aerospace engineer at the Air Force Research Laboratory (AFRL) where he currently works as a Program Manager on the OPTIMUS and EXPEDITE industry research programs. He earned B.S. and M.S. degrees in Aerospace Engineering from Arizona State University and a Ph.D. in Aerospace Engineering from Virginia Tech. He worked for Space Systems/Loral as a Senior R&D Engineer on several large communication satellite programs integrating Hall thruster subsystems onto satellite systems, started a small aerospace technology company called Optimal Flight Sciences, LLC and worked on contract with AFRL doing research in multidisciplinary aircraft analysis, design, and optimization specifically focused on propulsion integration. Darcy Allison will present together with Steven M. Iden, a retiring Optimized Integrated Multidisciplinary Systems (OPTIMUS) Program Manager for the USAF Aerospace Vehicles Division of the AFRL with 30 years of experience in the aerospace industry.

David Moseley is the Director of Powertrain for California-based EV startup Lucid Motors. The company has recently announced the 1000 hp Lucid Air vehicle, scheduled for production as of late 2018. Previously, he worked as the Technical Director at EnginSoft, UK, supporting a variety of engineering clients with optimization services based around ESTECO products. David's background is primarily in automotive structural crashworthiness and occupant restraints performance: in research, for vehicle manufacturers and as a consultant - roles he covered during a period in which the vehicle occupants safety was transformed by innovative engineering in secondary and, more recently, primary safety. 
Views and opinions expressed by ESTECO are not necessarily shared by the Ronald Reagan Presidential Library and Foundation.