MEC Conference Center & Banquet Hall, Troy, Michigan, USA
NAFEMS Regional Conference
ESTECO is proud to participate in the Engineering Analysis & Simulation in the Automotive Industry event, organized by NAFEMS Americas, where attendees from the major automotive manufacturers and suppliers will gather to exchange ideas, identify best practices, and drive the near-future direction of technology.
ESTECO's Apurva Gokhale will hold a presentation on "Engineering the Electric Vehicle Revolution" coauthored by Lucid Motors. The study focuses on identifying the optimal configuration for the electronic devices employed in hybrid and pure electric vehicles.
The presentation will be held on Thursday, April 27th at 1:20 pm EDT. If you can not attend the event, the presentation is available here.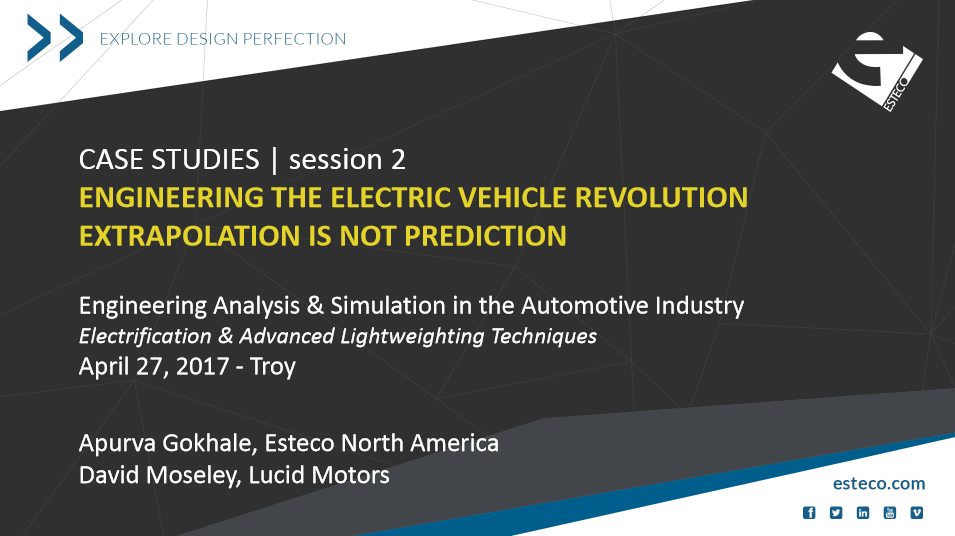 NAFEMS Americas and invited speakers will address various questions around electrification & advanced lightweighting techniques.
What CAE techniques are being used to drive various powertrain electrification design alternatives (i.e., HEVs, PHEVs, EBVs, etc.)?
What are the methods used for modeling and simulation of advanced composites/ plastics to drive light weighting design?
What solutions are available to help me with the evaluation of these technologies, based on demonstrated successful applications?
What steps should I take when exploring the widening technology landscape?