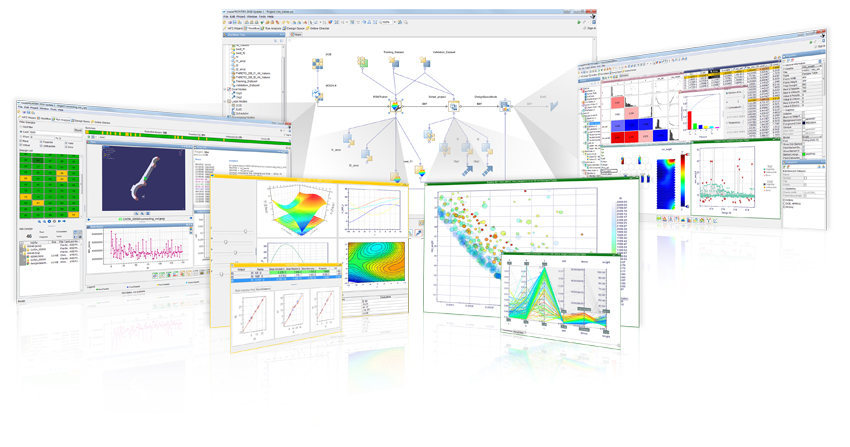 New modeFRONTIER and VOLTA releases available
ESTECO announces the new releases of its leading optimization technology with the new versions of modeFRONTIER and VOLTA. This release focuses on platform performance and user experience and brings about many new features and improvements.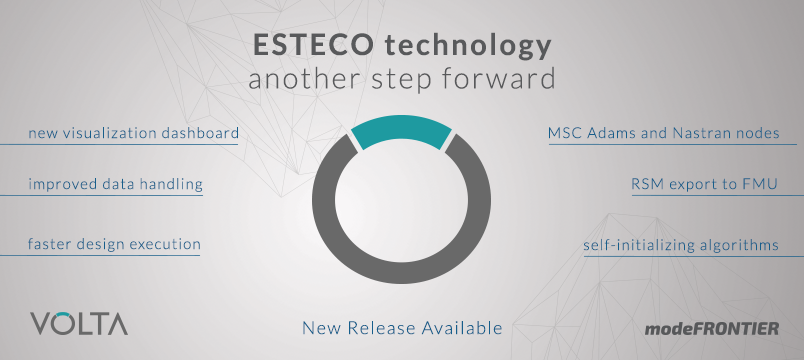 PERFORMANCE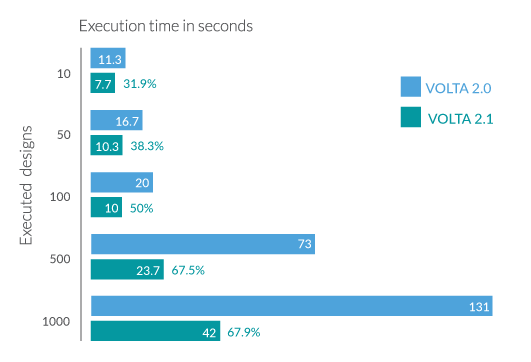 ​modeFRONTIER features the Fast Launch option that does not require the creation of external Java virtual machines and speeds up simple design evaluations for the Sub-Process Node and several direct integration nodes (the option will be added for the full list of integration nodes with the next release).
VOLTA design execution is now faster thanks to a significant reduction in the startup time for running designs. The chart below shows the time reduction for short runs, up to more than 65%.
USER EXPERIENCE
Optimization-driven Design
New SELF-Initializing algorithms > Teams can now get their optimization projects on the fast track exploiting the single-parameter setup of the classic modeFRONTIER algorithms. MOGA-II, NSGA-II, MOPSO, HYBRID, SIMPLEX, ARMOGA, MOSA and Evolution Strategies can now be exploited in the self-initializing mode, where the algorithms analyze the problem characteristics, automatically generate the most suitable DOE and start searching for optimal solutions. All by setting a single parameter: the number of evaluations.
Hybrid now supports discrete variables and users can now apply the strategy of this efficient algorithm that combines global search with refinement to an extended range of problems.
Thanks to the complete refactoring of the RSM algorithm Guassian Processes, we ensure now easier configuration, increased prediction accuracy and considerably reduced training time.
[EXPLORE TO EXPLOIT > Download the new brochure​ on ESTECO numerical technologies]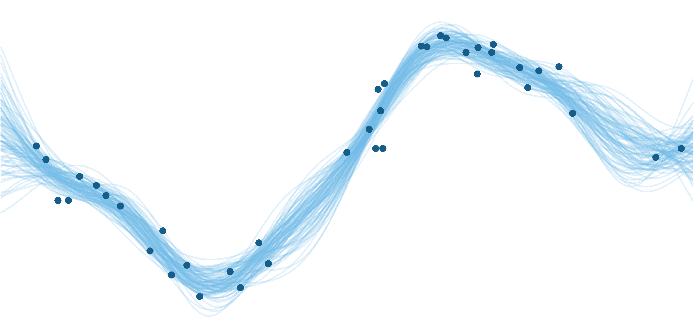 Data Management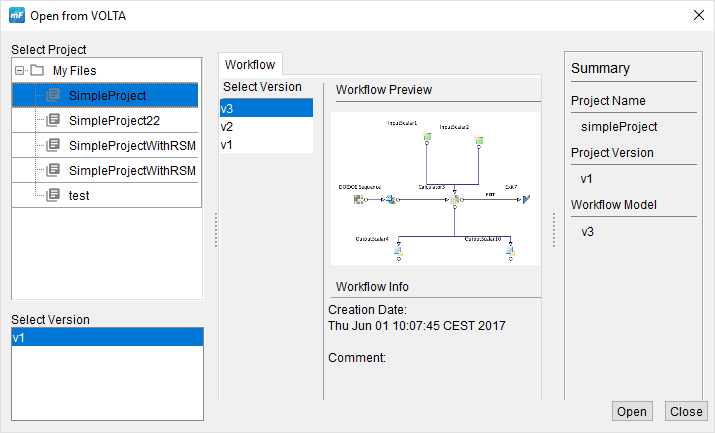 ​When retrieving files stored in VOLTA from modeFRONTIER, users can now browse among all available versions for both models and workflows and not only the latest uploaded versions.
To help teams and users keeping at hand what they need, when they need it, VOLTA features an enhanced file management with new "move rules" that keeps the order and better representation of shared with me items. Also, the new icons for My Files and Shared with me let users immediately distinguish between owned and shared items. 
Engineering Data Intelligence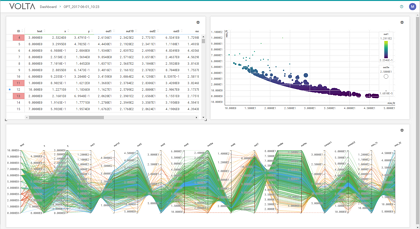 Dashboard for synchronized data visualization > Data analysts know that sometimes one tool is not enough to inform decisions. To get complete analysis and see the big picture, you need context — and that means having all your analysis data in one place. In this version, we are introducing the VOLTA Dashboard which lets you analyze session data using different tools side-by-side, making efficient use of all available data and giving you the context and the insight to make the right decisions.
And it's not just for data analysts. The Dashboard's synchronized data visualization and easy-to-use tools also empowers other teams to access and use session data with confidence.
Integration & automation
With this release modeFRONTIER includes the support for the Functional Mock-up Interface (FMI), a tool- independent standard that uses a combination of xml-files and compiled C-code. It is now easy to export RSMs directly from the Design Space as Functional Mock-up Units (FMU), computationally inexpensive models and share them with your team or run them as "blocks" within third-party applications compliant with FMI (eg: Simulink/Matlab, LMS Virtual.Lab AMESim, Simulation X, Dymola, MapleSim, etc.). This ensure higher flexibility in taking advantage of the efficient surrogate models created with modeFRONTIER and executed with the most suitable tool.
modeFRONTIER adds to the list of direct integration nodes MSC's Adams Car and Nastran.  
In addition, Export Datasets in Excel are now available in VOLTA, to enhance process interoperability.