Optimization of the clamping of glass onto a pyrolitic oven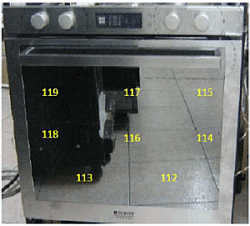 By examining only the internal glass of the pyrolitic oven (consisting of visco-elastic material), the aim of this work is to achieve the best glass-clamping system configuration, in order to obtain the minimum stress distribution and stress gradient.
Challenge
The aim of the optimization process is to found an optimal layout of the constraint system that minimizes stresses on the internal glass. To achieve this result, the FEM model provided by INDESIT was parametrized by means of a series of instructions named "macros", to allow modeFRONTIER to manage the geometry of the model.
Solution
The task of modeFRONTIER is to modify the model geometry on each run and to drive the input variables to the best set. The modified parameters are referred to as the upper and lower glass constraints dimension, and in particular, the reciprocal distance and the width of each constraints are verified.  The results were the values of stress and deformation on the model, due to the thermal gradient applied. Due to imperfections in the mesh, the mean value of stresses close to constraints, was taken into account. Obviously, the selected area for the calculation of this mean, was related to the area affected by higher stress values, to be precautionary.
Results
The obtained results meet expectations: a sensible decrease of stresses was registered nearby 30-40% with respect to the customer configuration, and a good conversion of results was achieved, highlighting the good quality of the work performed by modeFRONTIER. The deformations of the optimized configuration are bigger than the original ones, which is an indication that the obtained design provides room for a better movement for the glass.