Aircraft conceptual design of a business jet (category Large) using Multidisciplinary Design Optimization techniques
CHALLENGE - The design of business jets is a challenge for an aircraft manufacturer because, despite the most fuel efficient aircraft, the industry must design an aircraft that complies with cabin and passenger comfort, together with outstanding performance and aesthetics. 
SOLUTION - An initial market analysis has shown that an interesting value proposition for aircraft  is travel from London City (LCY) to Moscow (VKO) faster than Cessna Citation X and should travel from Dubai (DXB) to London City (LCY) faster than Dassault Falcon 5X. The ideal Internal Rate of Refund (IRR) of the aircraft should be higher than 16%. With all of those requirements, the objective function of optimization is to maximize the internal rate of return (IRR), complying with all performance requirements and minimize the DXB-LCY blocktime in multi-objective optimization. All of the disciplines were modeled in MATLAB® language, using integration tool modeFRONTIER®. The algorithm used was MOGA-II (MultiObjective Genetic Algorithm of the second generation).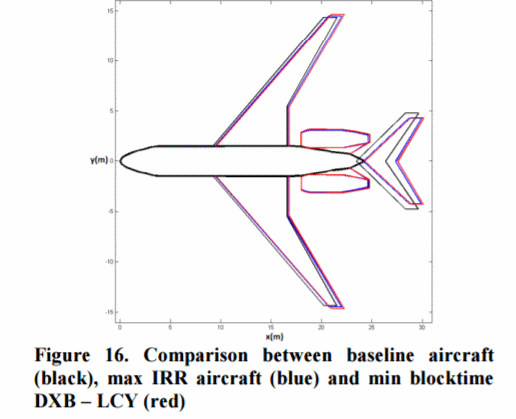 BENEFITS - Looking to Pareto frontier, we see a little variation on blocktime (just 2 minutes of difference between the Pareto frontier extremes), but we have a significant variation of IRR (0.74% between Pareto frontier extremes). A customer will not notice a difference of 2 minutes on the travel, so it is recommended to use the maximum IRR design to start the development of the aircraft. The IRR of the optimized aircraft is 17.56%.