Analysis Led Design at Cummins
CHALLENGE - Cummins is a global power leader in developing, designing, and manufacturing products in the engine business. Several factors energized an initiative called "Analysis Led Design" (ALD) whose underpinning is technical productivity. The need arose for reduced time/cost and for more robust products, and a top-down initiative accelerated the use of analysis in design.
SOLUTION - Cummins has turned to modeFRONTIER for their optimization methodology. For example, in a cylinder block structural optimization process, the goal was to find a combination of previously optimized geometry, bolt loads, and liner alternatives in order to minimize load variation, minimize distortion due to fire load, and the target required seal pressures at assembly. A Creo model was created, Genesis was used to list important elements, and modeFRONTIER coupled with ANSYS found the optimum combination. A multidisciplinary optimization of a wastegate tube is another example where modeFRONTIER was used in minimizing pressure drop, maximizing the system's natural frequencies, and minimizing temperature of the wastegate valve.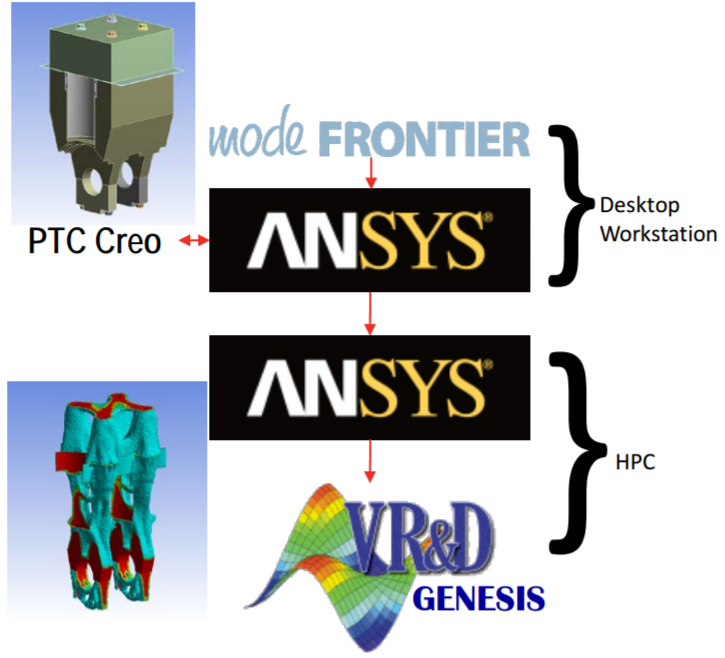 BENEFITS - ALD in Cummins has included the use of modeFRONTIER as its chosen optimization software. The structural and multidisciplinary optimization of the cylinder block and wastegate tube brings optimum designs to the table facilitated by a successful coupling of Ansys and modeFRONTIER.