Design by Optimization of a Controllable Pitch Marine Propeller
CHALLENGE - Cavitation, or boiling, is a result of low pressure and flow speed rather than high temperature in water. The higher the speed of a propeller, the lower the pressure in water and therefore the higher levels of cavitation. Researches wish to design a propeller that delivers the same thrust (both at the design and at the reduced pitch working points) in order to reduce the cavitation phenomena and, consequently, the resultant radiated noise.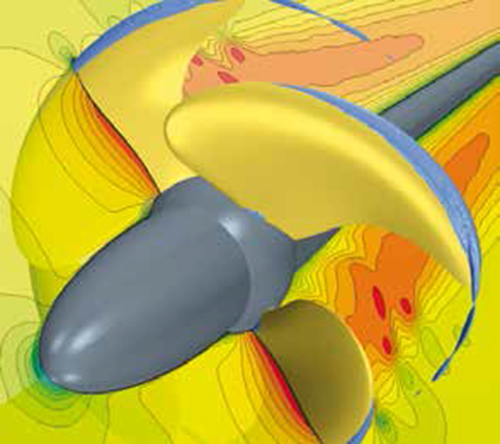 ​SOLUTION - Designers used MatLAB for the parametric description of the propeller geometry, a Potential Panel Method to compute propeller performances and steady or unsteady sheet cavitation. modeFRONTIER served as a link between the parametric description of the geometry and the panel method solver. After developing the method, designers drove the optimization through a multi-objective genetic algorithm (MOGA II) for a total of 30,000 different geometries tested.
BENEFITS - The results from their experience confirmed the numerical predictions, thus proving the method's capability to assess the propeller functioning characteristics and the effectiveness of the proposed design procedure. Through optimization, the panel method is able to correctly balance the performances at the different working conditions following the objectives and constraints required.