Design optimization of a main landing gear shock absorber hydraulic system
CHALLENGE - The present study describes  the advantages obtained by the usage of the modeFRONTIER software for the design optimization of a Main Landing Gear (MLG) shock absorber hydraulic system to guarantee the compliance with the customer performance requirements. ​
SOLUTION - A fully integrated procedure based on modeFRONTIER platform has been developed at the aim firstly to drive an "encrypted" MATLAB model and then to perform a multi-objective optimization. 
modeFRONTIER Workflow Design Parameters
5 Input variables: #5 from the main Nitrogen Volume & Metering pin shape
3 Output variables: Efficiency, Load factor, Stroke
3 Objective functions: Max Efficiency, Min Load Factor, Min Stroke
3 Constraints: Load Factor < n1; Shock Absorber Stroke < s; Efficiency > e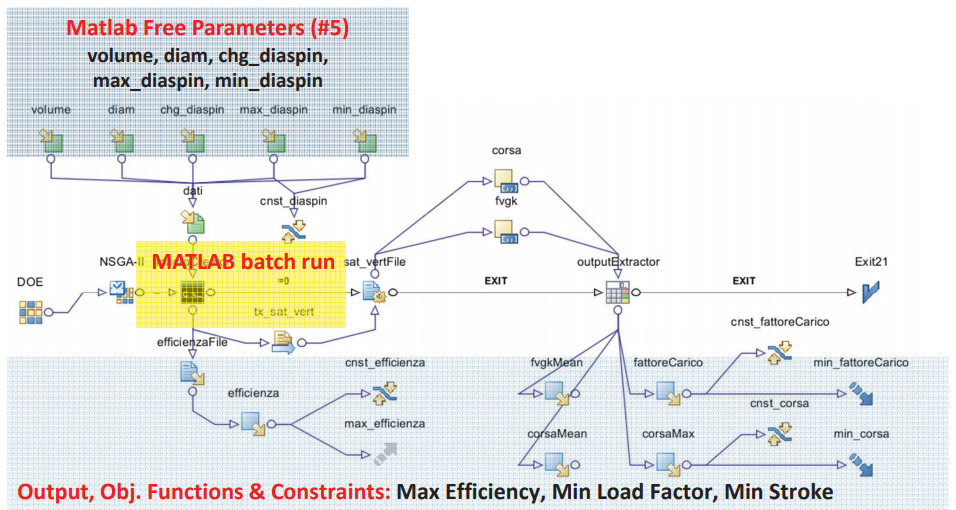 BENEFITS - modeFRONTIER allowed to find the optimized solution with time/cost of the activities drastically reduced.