Designing Lighter Products with modeFRONTIER
DON'T LET COST AND TIME WEIGH YOU DOWN.
The increasing demand for lightweight products brings challenges for designers in all industrial sectors, especially those in the consumer goods, aerospace and automotive fields.
Lighter products play a crucial role in reducing the impact of industry on the environment by cutting down the use of raw materials in the production phase and reducing fuel consumption and carbon emissions.
OPTIMIZATION AND INTEGRATION FOR LIGHTWEIGHT DESIGN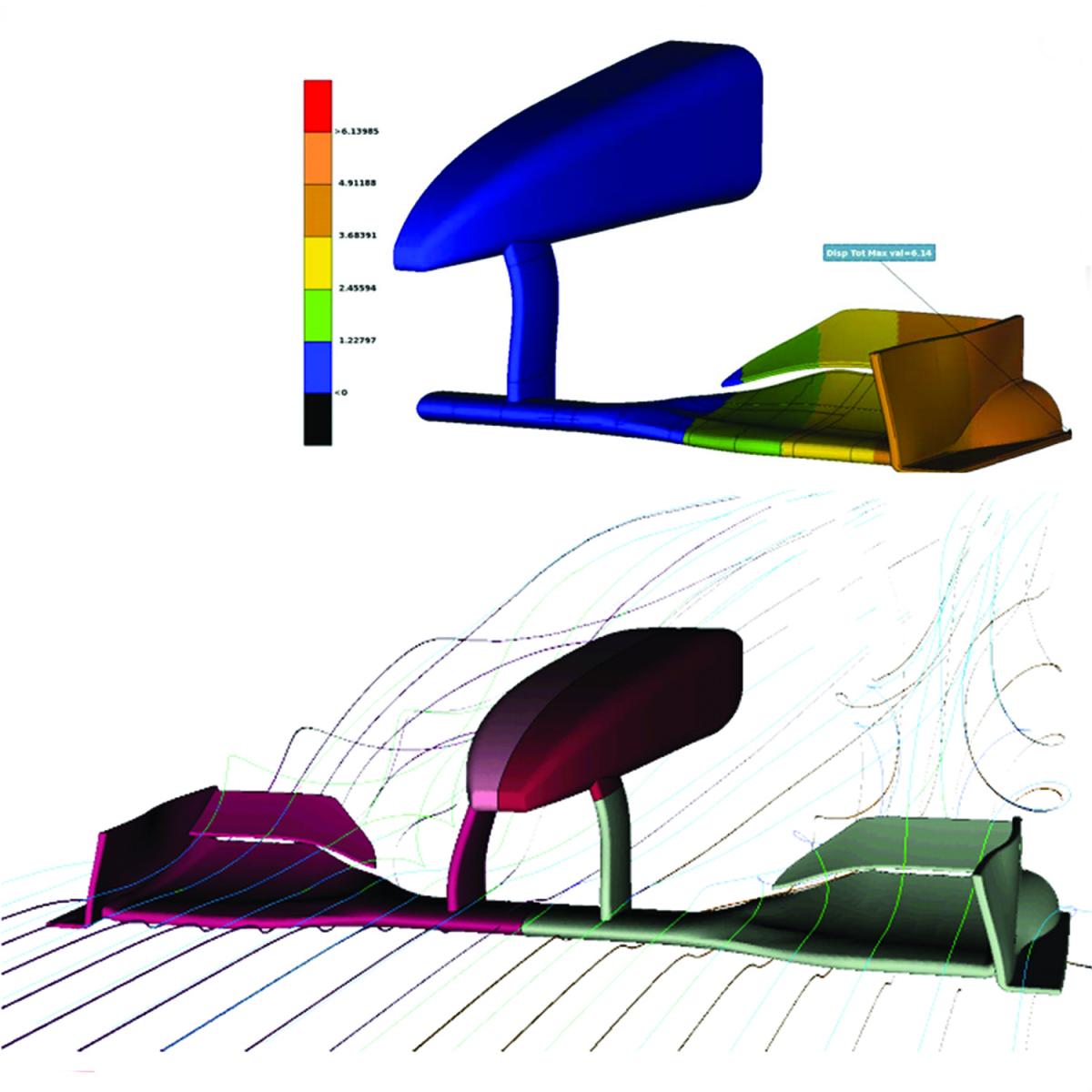 Optimum weight and the angle of attack of a Formula 1 front wing
[Courtesy of BETA CAE]
Lightweighting can be achieved either by using new generation materials, as opposed to heavy traditional structures, or by reducing the mass of components as much as possible. In both cases, weight targets need to be offset against other design standards to avoid the risk of compromising the overall performance and safety of the product.
Considering these issues in the early stages of the design process and integrating all problem dimensions using a multidisciplinary and multiobjective approach, lightweighting becomes crucial to avoiding product failure and for reducing environmental impact through lightweighting.
modeFRONTIER LIGHTWEIGHT APPLICATIONS
In any method adopted to achieve a lighter design, modeFRONTIER's integration capabilities with CAD and CAE, the most commonly used tools, have proven essential to engineers by:
automating the exploration of the design space in the search for a best compromise between weight and performance
streamlining shape optimization by automatically adjusting geometry parameters to, and counterbalancing weight with, structural compliance standards
integrating data from CAD tools, multibody analysis and simulation solvers for structural simulation into a seamless workflow
Optimization can be performed at the molecular modeling level or the composite properties level and can even be simulated when coupling modeFRONTIER with dedicated software solutions like eXstream Digimat, ANSYS Composite PrepPost (ACP) or tools capable of simulating real world dynamics like LS-DYNA. No matter the objective, modeFRONTIER's optimization methodologies can integrate multiple data streams into one seamless, multiobjective strategy for lightweight designs.
CASE STUDIES
BMW, Alenia Aermacchi, Ford, and other leading companies and research institutions rely on the modeFRONTIER design optimization platform to develop lighter products.