Development of an integrated methodology for the holistic design and optimization of high speed roro - passenger vessels
Quite often during the preliminary ship design stage, the designer in search of the "optimal vessel" for a specified operation scenario is faced with a series of important decisions with crucial impact on the vessel's performance.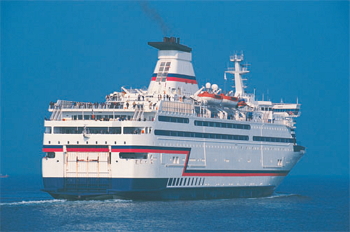 It is the nature of the designer's work that requires many of these decisions to be made during the early stages, based usually on limited, vague or undependable information. In such cases, the designer needs to rely on his experience, human intuition and engineering judgment, occasionally supported by the exploitation of relevant data available from past designs. Advanced design tools, making use of modern CASD technology to facilitate the elaboration of a vessel's preliminary design in limited time and with minimal effort, yet at the same time with reasonable detail and accuracy, would be undoubtedly of great assistance to the designer. Employing the parametric design, or parametric modelling procedure, the design of a certain object, component or system may be based on a set of design variables, in association with the required software tools. In the case of integrated systems however, such as an entire industrial plant, or in the particular case a large commercial ship, the implementation of a parametric model is no more a simple task, if possible at all, as the level of complexity increases exponentially.
The development of an integrated methodology for the preliminary design, evaluation and optimization of highspeed monohull ROPAX vessels, applying state of the art design software and computational tools is the main objective of the current thesis, carried out in the Ship Design Laboratory of the National Technical University of Athens. The core of the above methodology consists of a set of software tools, specifically developed for the parametric design and evaluation of the specific types of vessels. The design procedure has been linked with a multicriteria optimization software (modeFRONTIER), to form an integrated ship-design methodology facilitating the design space exploration and optimization (by means of genetic algorithms) in a rational and efficient way. The developed methodology has been applied to the design of a series of vessels of various sizes. Typical results from these studies are presented. The integrated methodology for the parametric design of high-speed monohull ROPAX vessels has been developed within the well known commercial ship design software NAPA.