Driving Product Development with CAE and System Design at Whirlpool Corporation | UM14
CHALLENGE - Cultivate advanced engineering knowledge in dynamics, structures, fluids, thermodynamics and controls, and embed it in the design process. In doing so Whirlpool aimed at shortening the design cycle, minimizing the reliance on build-and-test methods and leveraging the global talent within the company.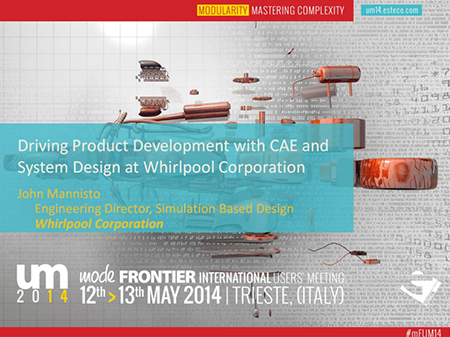 SOLUTION - modeFRONTIER was used to drive product development by integrating and connecting process, component and subsystem models in a consistent framework that enabled the ongoing connection and engagement throughout the network of design teams worldwide.
BENEFITS - modeFRONTIER played a key role in streamlining system modeling tasks and helped Whirlpool rationalize the whole process and adapt it efficiently to regional specifications providing diversified product lines.