Energy and daylighting optimization for an office with fixed and movable shading devices
CHALLENGE - One key component of an energy conscious building is the façade since it separates the internal comfortable environment from the external environment. In this paper, a multi-objective optimization of an external shading device has been performed with the goal of minimizing the overall primary energy consumption and blinds activation hours in an office room. 
SOLUTION - The geometry is optimized regarding the overall energy consumption for building climatization and illumination. To avoid glare problems an internal venetian blind is considered as well, so the fixed shading devices influence the deployment of the moveable internal venetian blind. The energy consumption for cooling, heating and internal illumination has been taken into account. The optimizer modeFRONTIER drives the optimization using DAYSIM for internal illuminance and lighting electrical loads computation and software tool ESP-r for building energy simulation. The solutions obtained with the FAST algorithm are compared with a classical genetic optimization. Both the FAST and NSGA II algorithms have been applied using the simplified approach of DAYSIM.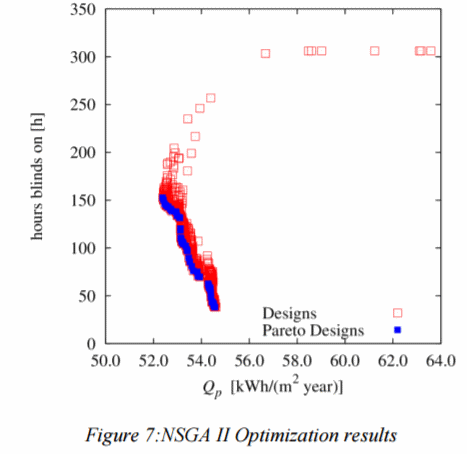 BENEFITS - A set of optimal solutions have been obtained, with up to 18% reduction of primary energy consumption. The solutions obtained demonstrate that multi-objective optimization algorithms, like FAST available in modeFRONTIER, can be a powerful tool if used by designers for building energy design.