ESTECO Webinar | Integrating GT-Suite, ANSA, TaiTherm and modeFRONTIER to optimize a muffler heat shield
ESTECO, Gamma Technologies, BETA CAE Systems and ThermoAnalytics will host a joint webinar on October 17th 2017, presenting the successful integration of their technologies in the modeFRONTIER workflow to reduce bumper temperature through coupled simulations for a compact car.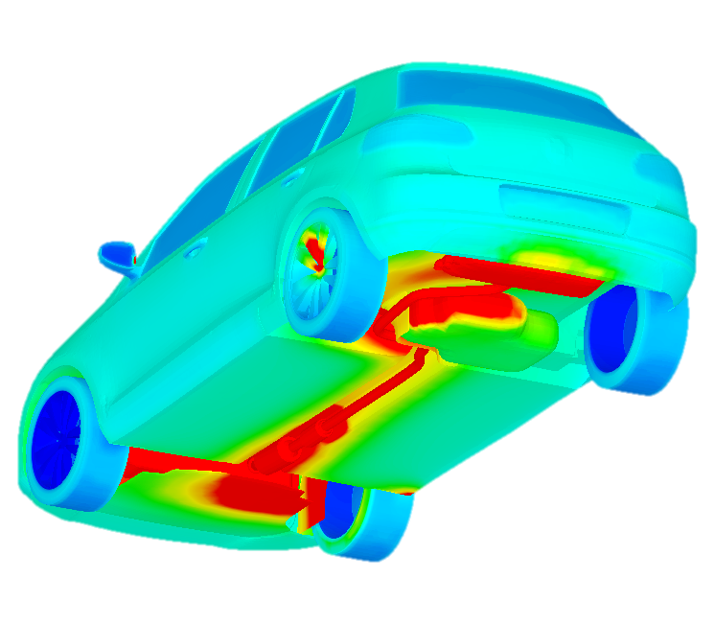 Expert engineers from GT-Suite, BETA CAE Systems, ThermoAnalytics and ESTECO will demonstrate the advantages of the integration of their software to reduce bumper temperature in order to prevent car paint peeling.
The webinar focuses on an integrated approach to modify the muffler heat shield properties to reduce bumper temperature by  implementing various solvers:
GT-Suite simulates the gas temperatures of the exhaust system
ANSA modifies the heat shield
TAITherm implements GT and ANSA results before running thermal radiation effects
modeFRONTIER automates the interaction between the tools and optimizes both the bumper temperature and mass
OCTOBER 17th 2017
5PM CEST
See conversion in your timezone
PRESENTERS
Paramjot Singh, Tom Wanat
Senior Engineer | Staff Engineer
GAMMA TECHNOLOGIES
Ravi Nimbalkar
Manager, Software Support
BETA CAE Systems
Josh Pryor

Thermal/CFD Engineering Services

THERMOANALYTICS
Daniel Schmidt

Application Engineer

ESTECO
AGENDA
Focus on the following topics:
Overview of ESTECO and its technology
Case study > Utilizing coupled simulations to modify a muffle heat shield to reduce bumper temperature
Leveraging technologies from GT-SUITE, ANSA and TAITherm through coupling in modeFRONTIER
Identifying key variables in the multi-objective problem of reducing bumper temperature and shield mass
Optimization results
Q&A session
ABOUT GAMMA TECHNOLOGIES
Gamma Technologies is the developer of GT-SUITE, the leading 0D/1D/3D multi-physics CAE system simulation software. GT-SUITE supplies a comprehensive set of component libraries which simulate the physics of fluid flow, thermal, mechanical, electrical, magnetic, chemistry, and controls.
ABOUT BETA CAE SYSTEMS
BETA CAE Systems is a private engineering software company committed to the development of state of the art CAE software systems that meet the requirements of all simulation disciplines. The company's products, the ANSA pre-processor/ EPILYSIS solver and META post-processor suite, and SPDRM, the simulation-process-data-and-resources manager.
ABOUT THERMOANALYTICS
ThermoAnalytics is a leading developer of thermal, fluid-flow and infrared modeling software. Over the years, we have pioneered thermal analysis tools and technology used in industries such as automotive, architecture, aerospace, defense, manufacturing and textiles.