How to optimize an external gear pump in highly constrained conditions
CHALLENGE - Today, any kind of hydraulic subsystem has to guarantee high performances and reliability in order to meet customer expectation while minimizing the price and time­ to market of each product. In this context, external gear pumps play a primary role thanks to their incomparable mix of features: extremely low­cost and simple production but with high performance and reliability at the same time. Their major limitation is fixed displacement. In addition, the last few years have seen a significant attention to noise reduction. The objective of this project was to take a standard series pump with a displacement of about 20 cc/rev and to minimize its noise emission while maintaining the same level of performance. 
SOLUTION - The target was to review its core feature, the design of its gears and lateral plates that interface with them. These parts are geometrically constrained by connection to a preexisting housing. The main purpose of the optimization was to reduce the overall noise emission of the pump. The other main purpose of optimization is the maximization of both volumetric and hydro­mechanical efficiencies. The first step of optimization was the gear design: an internally developed software was used to calculate not only standard features like gear contact ratio and tooth strength but also more specific parameters important for a hydraulic pump. This software was included inside a modeFRONTIER workflow. The best solutions suggested an increase in the number of teeth compared to the current gear. As a further verification, the new design has been validated with KISSsoft commercial software. After having parametrized lateral grooves' geometry, a precise model is necessary to properly simulate the pump's behavior using HYGESim. Besides MOGA II, the MOGT algorithm was chosen because of the super constrained problem.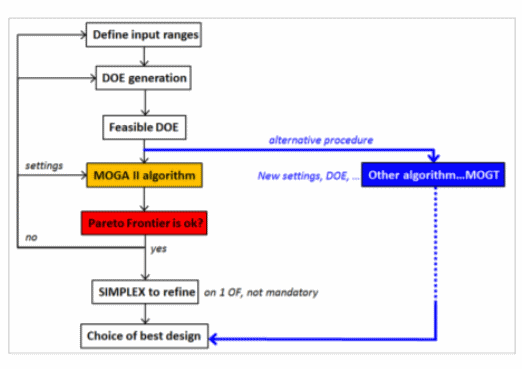 BENEFITS - In this project, a super­constrained optimization was performed in order to find better gear and lateral plates for a new low­-noise version of the Casappa PL20 pump. MOGT algorithm demonstrated to be 22 times more efficient than standard MOGA II in 1/6 of time, leading to better solutions.