Improvement of engine acoustic behavior
CHALLENGE ​- The Simulation Dept. at BMW Motoren is responsible for improving diesel engines designs from the structural, acoustic, dynamic and fluid-dynamic point of view. In this presentation, BMW engineers aim to reduce noise generation of the combustion chamber that travels through the engine cover plate.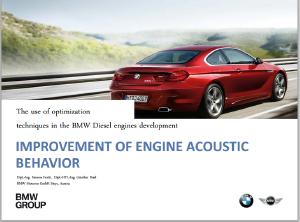 SOLUTION - To reduce the airborne noise transmitted to the cover plate, the existing ribs' shape have to be modified without exceeding the existing mass constraints. By linking the models of rib structure and acoustic behavior (within 6 degrees) - simulated by ANSA, Nastran and Mnoise - in a unique workflow, it was possible to consider all constraints and identify the best configuration for noise and mass reduction.
BENEFITS - modeFRONTIER enabled BMW designers to determine the optimal rib modification, avoid the common counter effect caused by the rib's weight and reduce noise by 30%. Without modeFRONTIER's numerical optimization, the multi-disciplinary and multi-objective nature of the problem would have restrained any improvement.