Influence of Body Stiffness on Vehicle Dynamics Characteristics in Passenger Cars
CHALLENGE - This project examines the influence of body stiffness in vehicle dynamics characteristics (handling, steering and ride). These are examined through CAE analysis tools and compared to results from physical tests. Furthermore, the effect of increased torsional stiffness on overall vehicle performance is not completely known which is further explored in this paper.
SOLUTION - Finite Element Analysis is performed in order to capture torsional body stiffness and bending body stiffness. Full vehicle CAE simulations are performed with the simulation tool IPG CarMaker, which show a significant difference in vehicle dynamic characteristics when comparing a passenger car with a reinforced body against a baseline Volvo S60 vehicle. Simulations are performed in MSC Adams. In this study DOE is used to perform a sensitivity analysis in modeFRONTIER.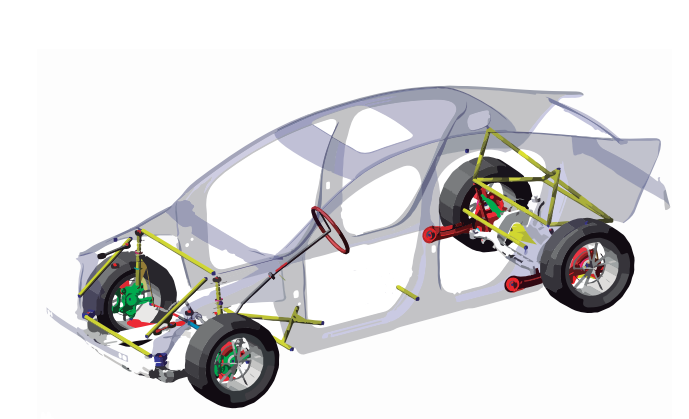 BENEFITS - Up to 14% improvement in the phase lags of the vehicle for steering input frequencies (0,5 Hz) through increasing the global torsional stiffness of the car is found. Additionally, increasing the local stiffness in the front lower arm also shows an improvement in the overall vehicle response. The simulations also show that larger influence in vehicle dynamics can be achieved by adding a group of stiffeners to the car than by adding all the bars together or making the whole body rigid.