Initial billet and forging dies shape optimization Application on an axisymetrical forging with a hammer
In metal forming process, the forging die design is the most important step for products quality control. Reasonable dies shape can not only reduce raw material cost but also improving material flow and eliminating defects. The main objective of this paper is to obtain some optimal parameters of the initial billet and forging dies shape according to the simulation results of a two-step metal forming process (platting step and forging step). To develop this metal forming process optimization system several numerical tools are required: geometric modeling (CATIA V5TM), FEM analysis (ABAQUS), work-flow control and optimization computation (modeFRONTIER).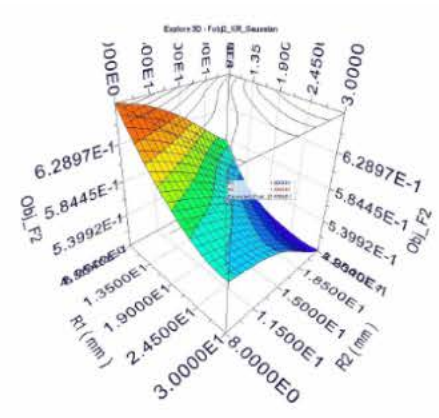 This study is done in three stages: simulating the two-step metal forming process, building surrogate meta-models to relate response and variables and optimizing the process by using advanced optimization algorithms.In this paper, a two-step axisymmetric metal forming project was studied as an example. By using our simulation model, we get 581 correct real simulation results totally. According to all these real values, we build the surrogate meta-models and obtain Pareto points for a two-objective optimization process. The choice of a solution in all Pareto points will be done by the engineer who can choose his best values according to their criterions of project.