Integrating Multi-Disciplinary Optimization into the Product Development Process
CHALLENGE -  In the automobile industry, there is a constant need for cost-effective solutions that meet all business and customer requirements. A CAE portfolio of a modern company contains a multitude of different applications to be used for design, analysis and verification of components as well as of entire systems. CAE tools are improving at an ever increasing rate, yet the challenge lies in efficient management of CAE processes to ensure traceability.
SOLUTION - Optimization is performed in many engineering areas such as CAD, FEM, CFD, multibody dynamics, 1D-simulation, controls development, etc. This presentation shares strategic work at the Volvo Car Corporation on how multidisciplinary optimization (MDO) is integrated into the product development process, and how challenges are dealt with. MDO is the key enabler for product development needs. Techniques for process integration and design exploration are rapidly growing and are making their way into the PLM systems.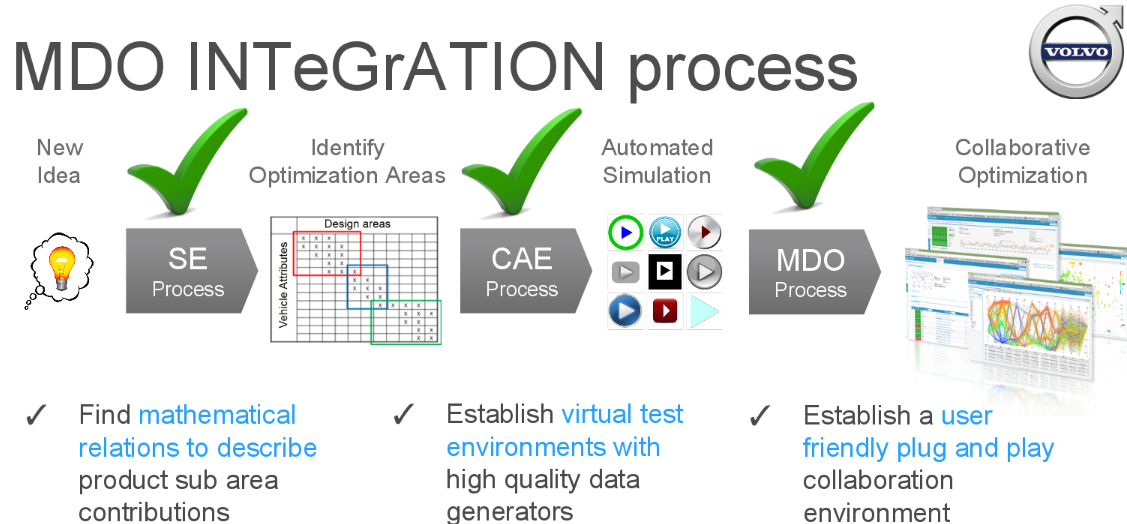 BENEFITS - Volvo and ESTECO pilot shows that a collaborative optimization platform is possible using modeFrontier, SOMO and OpenPDM providing traceable, reusable, transparent functionality.