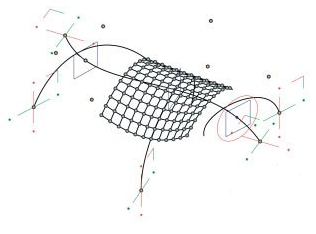 In our research, we will develop tools and software techniques for this new exploration. We will use digital technologies specifically in service of probing the unknown.
We will generate innovative and high-performing results by using a new design methodology: creating architecture through design of experiments rather than design of solutions.
In our experiments, we will learn and apply parametric modeling tools (CATIA) and advanced artificial intelligence methods (evolutionary computation). We will be among the first architects in the world to use new multi-objective optimization software (modeFRONTIER). We will test with digital simulations (FEA and Ecotect) and we will test with physical prototypes (digital fabrication and wind tunnel experiments).
Yet, while we will employ serious tools of engineering and computer science, we will not limit our studies to technical performance. We will also value positions about culture and program that are difficult to quantify. Over the course of the semester, we will have an informed, critical, and open-ended discussion about the exploration of the unknown and the future of architecture.