modeFRONTIER optimisation on financial markets
The basic portfolio optimization theory hinges on the discrete time, continuous outcome paradigm otherwise known as the mean-variance or Markowitz paradigm. In 1952, Harry Markowitz introduced this approach, which is widely used in applications involving investment portfolios. Mean-variance theory assumes that among portfolios with the same standard deviation, the one with the greatest expected value is the most efficient.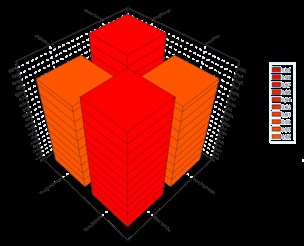 Efficient in the sense that for a specified level of expected return, the corresponding risk is minimized; alternatively, for a given level of risk, it yields the highest expected return. He showed how rational investors could build optimal portfolios under conditions of uncertainty by using statistical measures for expectation and variance of return. The aim of this work is to build a "portfolio planning" through an optimization with modeFRONTIER. We have chosen "DJ EuroStoxx 50" as benchmark and all its components as portfolio constituents.Why DJ EuroStoxx 50? "Because of its relative simplicity and the fact that it follows only blue chips, the DJ EuroStoxx 50 has become hugely popular with retail investors, and is gaining some ground with European institutional investors. The DJ EuroStoxx 50 is a part of the Dow Jones Stoxx family of indexes, which also include Stoxx, a broad, pan-European selection of 600 companies as well as smaller sector indexes". (nickselby.com/articles/technology/what-index.html).

Likelihood value (on the left); real future value (on the right)
The Expected Return on a portfolio is computed as the weighted average of the expected returns on the stocks which comprise the portfolio. The weights reflect the proportion of the portfolio invested in the stocks. Through an modeFRONTIER optimization we studied the best combination of the proportions of the portfolio Xi invested in stock i, in order to maximize the performance. The optimization has been performed on a likelihood value based on a "hope"for the future. The positive correlation of this variable with the real future value of return has allowed to obtain good results.