MULTI-OBJECTIVE OPTIMIZATION OF VEHICLE OCCUPANT RESTRAINT SYSTEM BY USING EVOLUTIONARY ALGORITHM WITH RESPONSE SURFACE MODEL
CHALLENGE - Since physical prototyping and testing the design and development of a vehicle consume huge time and cost, virtual prototyping and testing by using numerical simulation are employed at various phases of the design. The author constructed an analytical model of occupant behavior at frontal crash by using multi-body dynamics simulation and conducted an evolutionary multi-objective optimization of the occupant restraint systems. 
SOLUTION - An occupant's behavior model of a full-frontal crash testing is constructed by using the multi-body dynamics tool, MADYMO. Input variables for controlling the behavior of the model consist of six design variables regarding the restraint equipment, which strongly affect safety indexes: an airbag, a seatbelt and a knee bolster. In this research, four response surface models of the HIC (head injury), the ChestG and the left and the right FL (femur load), FL_L and FL_R, are constructed by using the Gaussian Process as criteria of an occupant's safety performance.  The optimization problem was defined as a 2-objective minimization problem. The objective functions were HIC and ChestG. The FL_L and the FL_R were set as constraints. Adaptive Range Multi-Objective Genetic Algorithms, ARMOGA, one of the evolutionary multi-objective optimization algorithms, was selected for this optimization.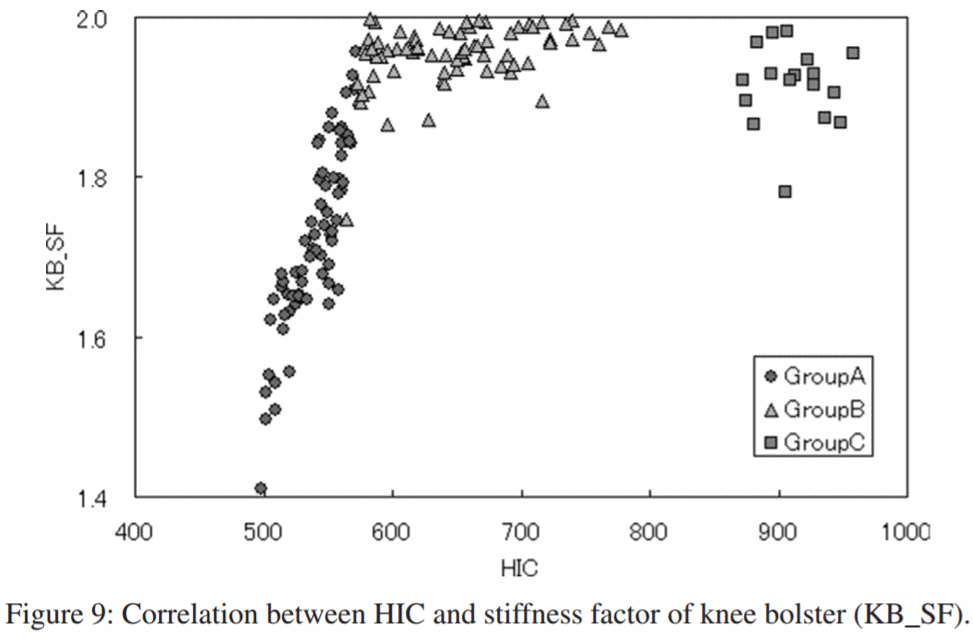 BENEFITS - The optimization environment modeFRONTIER allows to analyse the correlations among objective functions and design variables. Helpful information for designing the restraint systems, such as trade-off information of safety performance and contribution of design variables for the safety performance, is obtained by analyzing the Pareto optimal solutions.