Multi-objective robust optimization of the closing functionality of a trunk lid
CHALLENGE - This presentation from the Body and Closures Department at Volvo Cars demonstrates the optimization of a trunk lid, specifically, its closing functionality. Today the development process is driven by CAD/CAE iterations but the future should include a multidisciplinary approach that will shorten development time and fulfill contradicting demands.
SOLUTION - The requirements for the optimized trunk lid are defined: narrow split lines between the trunk lid and the body, the trunk lid should be easy to close, the trunk lid should not strike the lamps or bumper if slammed shut. Workflow is designed in modeFRONTIER with a set of an initial 20 input variables, the evaluation of overslam and of slow closing, and output variables. Deterministic optimization was performed to find the nominal pareto front and Multi Objective Robust Design Optimization (MORDO) was performed to find the robust pareto front.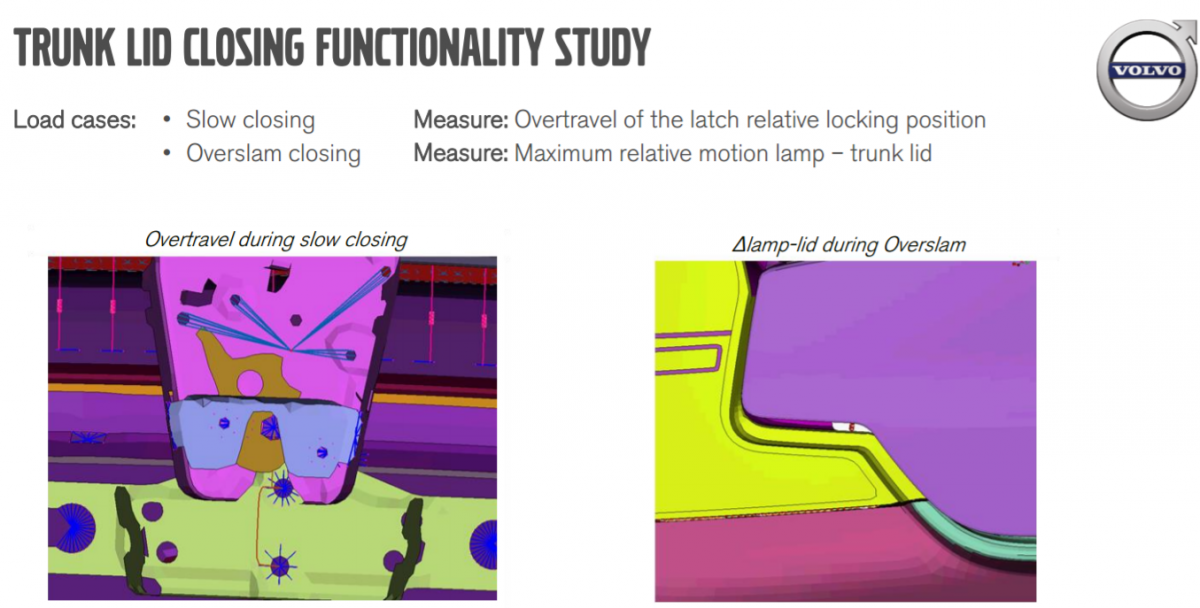 BENEFITS - The study showed that a solution fulfilling the requirements existed. By using a multidisciplinary approach in modeFRONTIER, an increased understanding of the system was attained: sealing and latch stiffness mainly affects the slow closing, bumpstop preload mainly affects the overslam motion.