A New Computer Simulation of Neck Injury Biomechanics
Head and neck injuries are the most frequent severe injury resulting from traffic accidents. Neck injury mechanisms are difficult to study experimentally due to the variety of impact conditions involved, as well as ethical issues, such as the use of human cadavers and animals.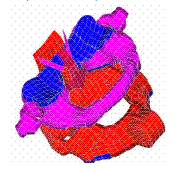 Finite element analysis is a comprehensive computer aided mathematical method through which human head and neck impact tolerance can be investigated. Detailed cervical spine models are necessary to better understand cervical spine response to loading, improve our understanding of injury mechanisms, and specifically for predicting occupant response and injury in auto crash scenarios. Using modeFRONTIER scientists are able to optimize mechanical parameter to better analyze medical data. The most advanced material data available were then incorporated using appropriate nonlinear constitutive models to provide accurate predictions of response at physiological levels of loading. The modeFRONTIER optimization method was the first utilized in biomechanics understanding, the C1–C2 model forms the basis for the development of a full cervical spine model. Future studies will focus on tissue-level injury prediction and dynamic response.