Offshore Platforms Sizing Optimization through Genetic Algorithms at PETROBRAS
Usually the process to select the main dimensions of a deep water floating production system can be an exhaustive trial and error exercise. This search can lead to several designs that can be either unfeasible or not fulfill the design criteria. The combination of the genetic algorithms with the possibility to use ordinary tools and the resources to process the output data made the program modeFRONTIER an interesting computational tool. The definition of the main dimensions of an offshore production platform is usually a complex problem due to the several variables that have influence over the behavior of the unit. Some of the main aspects related to the sizing of the platforms are the deck area, deck weight, subsea systems interface, stability issues and motions in waves.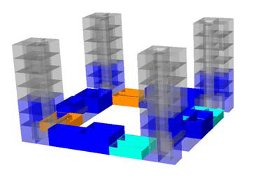 Recently, the demands of high oil volumes processing capacity are bringing large area and weight requirements, together with more stringent motion requirements due to the interface with the subsea equipment connections, frequently with steel catenary risers. The stability questions are also determinant in the definition of the platform geometry and dimensions. Construction and assembling of the platform also pose some additional questions due to the limit draft of shipyards. Deck mating operations are also constraints that affect the platform available ballast capacity. In order to tackle this kind of problem with a more general approach, advanced optimization techniques, based on genetic algorithm strategies have been proposed for the initial stage of the design process. A software has been used to assemble the sequence of design, enabling the designer to select what are the more important stages that must be checked and that can impact the platform main dimensions. From this sequence several generations of tentative designs have been produced aiming at the optimized combination of the input variables that results in the most adequate design. This procedure has been applied to a semisubmersible based deep water floating production system. The paper show the constraints, the objectives and the details of the genetic algorithm employed and also the resultant optimized design.