Optimization Applied to the Bearing Design of an Automotive Subsystem
CHALLENGE - Researchers at SKF Automotive Development Centre aimed at improving their bearing design for automotive subsystems by reducing the friction at the wheel-end by 30% while respecting the life service requirements.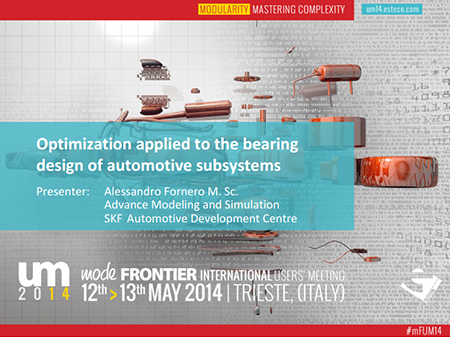 SOLUTION - The analysis considered two different load cases for the friction minimization and the targets set by the service life requirements. By integrating SKF Bearing Beacon - the in-house tool for bearing modeling and simulation - with modeFRONTIER, researchers first fine tuned the existing design then investigated different options for the roller's shape and size. Finally, they minimized the number of rollers while automatically monitoring the large quantity of outputs such as bearing service life, maximum contact pressure and friction torque.
BENEFITS - modeFRONTIER served as an "excellent extension" to the SKF internal software capabilities for large parameter studies and design optimization. The results of each study listed remarkable improvements (up to 19%) and allowed researchers to consider different bearing configurations, in terms of number of rollers and size, and spot the optimal friction reduction conveying robustness improvements to the bearing.