Shape Optimization of a Monohull Fishing Vessel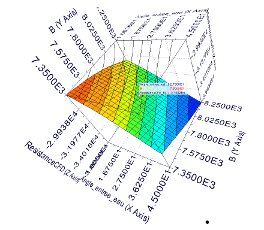 This paper presents the development of an optimization procedure, applied to a fishing vessel performed by SIREHNA as part of different collaborative research projects:
COCHISE: whose aim is to develop several ship designs (Naval Architect : B.E.Mauric), assess their performances, and then optimize one selected concept, from the resistance/seakeeping point of view.
OMD2: aims at optimization involving heavy CFD calculations originally developed in the automotive industry.
The intent is to create a hull with a new shape with particular attention to resistance and comfort on board.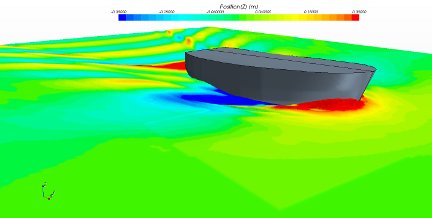 Within the present optimization approach, the first step consists in building a parametric model in CATIA v5 to allow deformation, followed by a grid generation stage by STARccm+. For the evaluation of resistance and seakeeping quality, it is necessary to make different grids that meet the different codes requirements.
Seakeeping calculations are performed with the AQUA+ software. Ship forward resistance calculations are made with two codes: REVA, a free surface potential code developed by ECN/Sirehna, and the commercial software STARccm+ (CD-adapco), which solves the full viscous flow problem, thus enabling a two-level optimization process to reduce as far as possible the calculation time.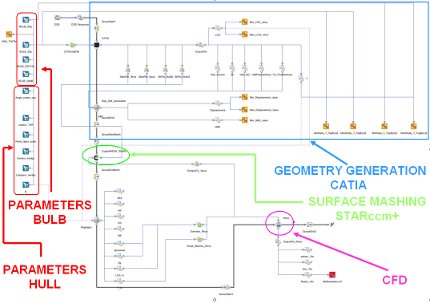 The optimization objectives are to minimize the resistance and to maximize the seakeeping qualities, through a given criterion related with accelerations.
All this process is integrated within the modeFRONTIER multi-objective design environment.
The optimization strategy consists in starting from a base shape without a bulb, optimizing the global shape characteristics of the ship, then adding a bow bulb and optimizing it. The final shape, after some re-working by the architect, is then tested in towing tank, for checking. CFD calculations corresponding to model tests conditions have been also performed, and the results shown an excellent accuracy.
Reduction of ship resistance:
| | |
| --- | --- |
| Base shape without bulbous bow - Optimised shape with bulbous bow | 25% |
| Base shape without bulbous bow - Optimised shape with bulbous bow after additional naval architect work  | 33% |
The table shows the decreasing percentage of the resistance obtained at the end of the study for the hull optimized in relationship to the base shape.
The work has been performed, in 2011, at SIREHNA (France). 
SIREHNA, DCNS company, Centre of excellence in hydrodynamics