Tolerance Management 3.0- Optimizing the Physics
CHALLENGE - EnginSoft utilizes Tolerance methodology, an approach which focuses on the robust layout of mechanical assembly processes to ensure dimensional quality. In Tolerance management 3.0, the scope of this presentation, product complexity and the "in built intelligence" of controllers and software require a multi-disciplinary strategy to manage and achieve quality long-term. TTC3 GmbH, a part of the EnginSoft group, utilizes software and develops projects in different industry sectors.
SOLUTION -  In regards to automobile configuration, the optimization software modeFRONTIER provides an effective workbench to reach optimal design results. With conflicting targets max power, max torque and min fuel consumption, min weight, among others, a multidisciplinary approach can drive optimal results. Tolerance effects need to be identified and qualified with respect to the functional capabilities in the entire life cycle of the product.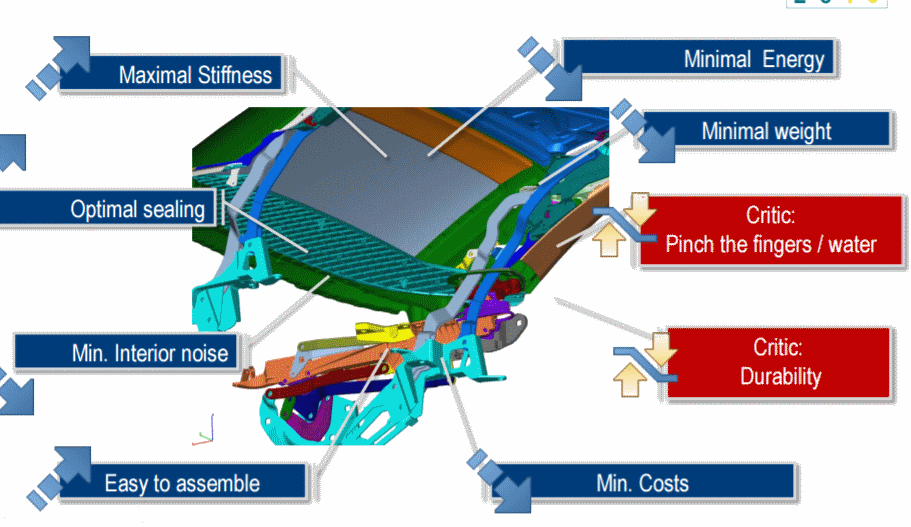 BENEFITS - Tolerance management 3.0 is the fast lane to the optimum. The route consists of a workflow incorporating the use of metamodels, multivariate analysis, postprocessing, decision making, DoE, robustness, data management, and more. EnginSoft Germany in cooperation with TTC3 GmbH is working towards the implementation of future technology.