Multivariate Optimization and 1-D Simulation of a High Performance Single Cylinder Engine for The ESTECO Academy Design Competition
CHALLENGE - Organized in partnership with Aprilia Racing and Gamma Technologies, the ESTECO Academy Design Competition 2016 was open to teams of undergraduate and graduate engineering students. The challenge was to improve the design of a 4 stroke single cylinder engine through multidisciplinary optimization (using modeFRONTIER) and 1-D simulation of the engine system with GT-Suite. 
SOLUTION - The winner, Michael Bambula of the University of Florida, USA, presented a top-notch design project, managing to achieve significant performance improvements (64.2 hp @16500 rpm) while developing a complete model for a Moto3 bike and realistic simulations that also considered the specifics of the race track. modeFRONTIER workflow was used to automate the design exploration process and integrate Excel and GT-Suite for computing lifts value intake and exhaust valve lift profiles and simulating the engine power output. During the development of the 1-D Engine Model there were inherently many unknowns; therefore Michael made assumptions supported through rigorous research and sources.The design variables related to the intake/exhaust system were automatically found by modeFRONTIER to optimize the output results: sum of engine power across engine speeds speeds from lowest to highest respectively (11500 rpm to 17500 rpm).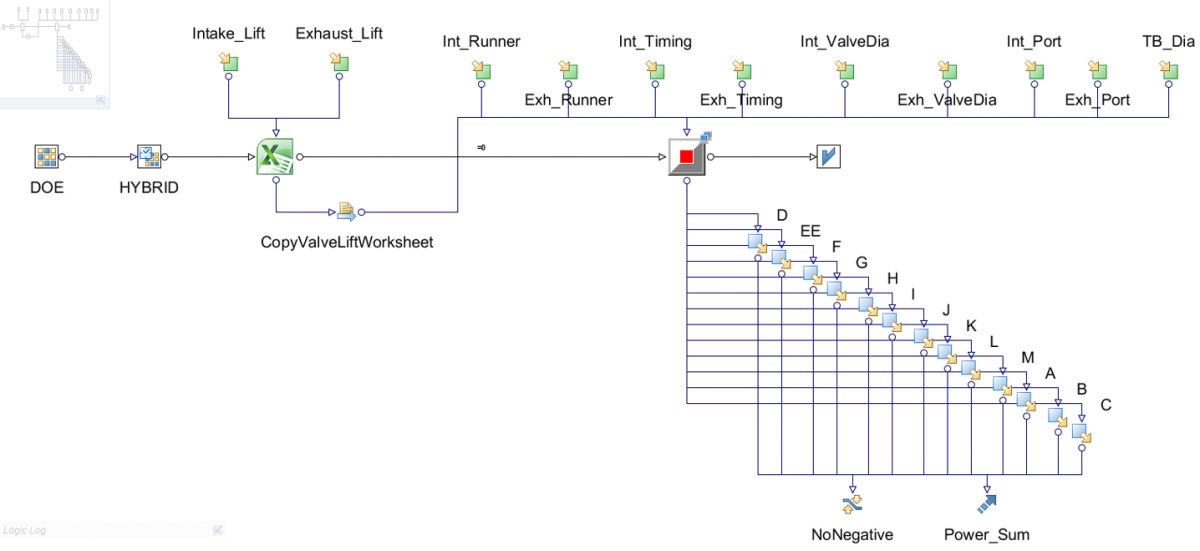 BENEFITS - modeFRONTIER ran 1000 different designs that varied the input parameters. The Hybrid Algorithm did an amazing job at finding the optimum solutions based on the objective of maximizing the engine power.