Monday, October 19, 2015 - 02:00

Pacengo del Garda (Verona) - Italy
The Poster Award Ceremony at the International CAE Conference
At the International CAE Conference 2015, EnginSoft, for the fourth year in a row, champions and sponsors the "Poster Award", a contest dedicated to recognizing the use of CAE technologies that are illustrated on posters.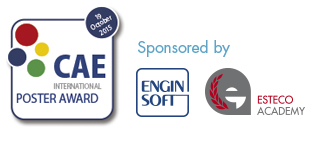 This year, ESTECO joins EnginSoft in sponsoring the "Poster Award" as part of its ESTECO Academy program which aims at fostering the use of optimization technology in academia. 
This contest is open to students, graduates, researchers, and / or faculty members such as professors from Universities and Research Centers.
On October 19th, during the International CAE Conference which will be held in Pacengo del Garda (Verona) - Italy, the poster presentation that represents the best, most creative and original use of numerical simulation software will be awarded.