CLG Product Digitalization Architect, Schlumberger
Uyiosa Abusomwan is a Product Digitalization Architect in the Completions Product Group at Schlumberger. Since joining Schlumberger, he has held several roles in reliability engineering and mechanical engineering for the New Product Development team, focused on the design of next-generation HPHT subsea and testing systems. Prior to joining Schlumberger, Uyiosa worked as a mechanical engineer in the Reliability & Technical Support team at Joy Mining Machinery, and as an undergraduate researcher in the Intelligent Systems Division of the National Institute of Standards & Technology.
He received a Bachelor of Science in Mechanical Engineering from New Jersey Institute of Technology, and a M.S. and Ph.D. in Mechanical Engineering from Carnegie Mellon University.
Tue, 29/10/2019 |

2.15 PM

to

2.45 PM
Galilee Ballroom
Product Digitalization for Automated Engineering Workflow & Systems Model
Enabled by the advancements in model-driven engineering, design engineers are incorporating product digitalization workflow to ensures the delivery of both physical hardware and its digital models. This presentation aims to highlight the motivation for product digitalization in engineering workflow automation and system model development, as an enabler for digital twins.
The business impact of product digitalization on efficient product design and in the development of digital twin models, supports the adoption of product digitalization in hardware design and engineering. Various attributes of product digitalization will be presented across three main categories, namely, model attributes, design and functional attributes, and platform attributes. Lastly, a case study of product digitalization implementation using ESTECO modeFRONTIER platform for oil and gas equipment will be presented. Benefits of product digitalization with modeFRONTIER namely; expedited product design, design optimization, fleet management, failure investigation, and health monitoring will be discussed.
The full agenda for next month's ESTECO Users' Meeting North America is now available. Join more than 100 modeFRONTIER and VOLTA enthusiasts to share knowledge and learn about the latest applications. Fiat Chrysler Automobiles, Schlumberger and QMSI join speakers lineup that already includes Cummins, Ford Motor Company and  Whirpool Corporation.
Read more
Venue & directions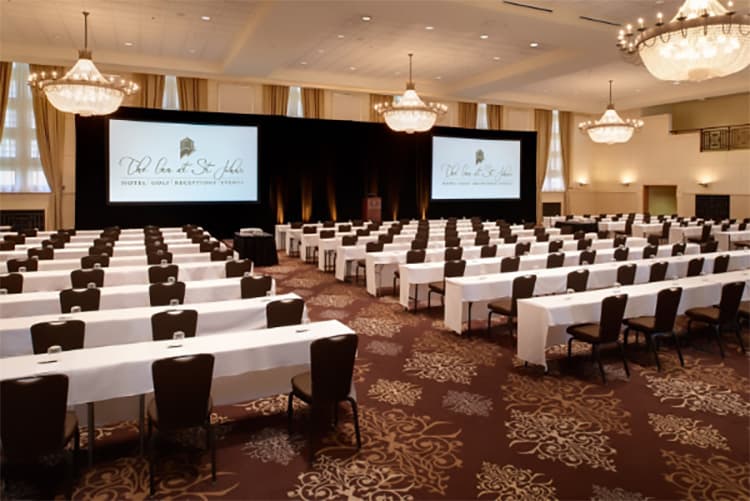 The Inn at St. John's

44045 Five Mile Road Plymouth,
Michigan 48170
Tel: (734) 414-0600
Sales Fax: (734) 414-0606