Key ingredients of effective decision making in the era of collaborative engineering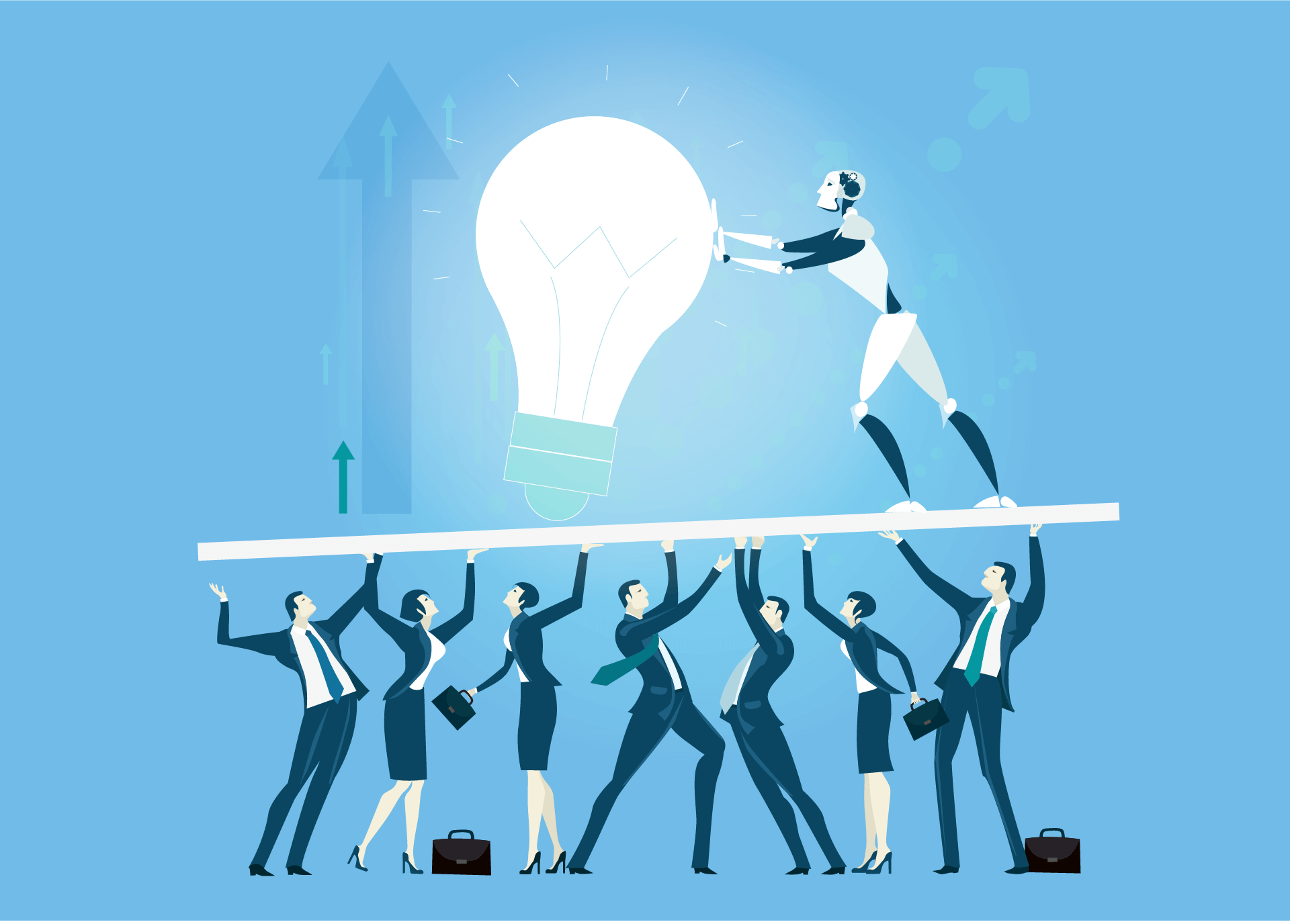 Engineers of any specialization have always made decisions on quantitative attributes, and the same should occur today. However,  in recent years, the overwhelming availability of data coming from different sources, including numerical models, measurements and operational data logs, may introduce the risk of losing control. 
As virtual models are becoming the norm in all stages of product design, and the benefits of simulation are extended beyond the domain experts, the amount of data at the hands of engineers has grown exponentially and will continue to grow over the years to come. In this new, fast-changing environment, effective decision making remains at the core of successful product design.
But engineering organizations are facing the challenge of adopting both a new mindset and new methods in order to stay on top of the game. Here are some of the ingredients that have proven to be essential for effective decision making in the digital world. 
Reliable virtual models and structured simulation data

First and foremost, models and measurements used to make the decision must be reliable. The same goes for the process that generates them.
In most cases, too much information is equivalent to no information. Being able to filter, synthesize and validate generated or accessed data is the crucial part of any business process with a strong impact on the consequent decision. Engineering is not an exception. In this case, the complexity grows as the data might be generated not only from agnostic observations but also from physics-based numerical models that inherit half a century of research and validation activity.
Effective management of the enormous quantities of simulation data makes all the difference when it comes to turning that data into actionable insights, which ultimately translate into more effective decisions earlier in the process.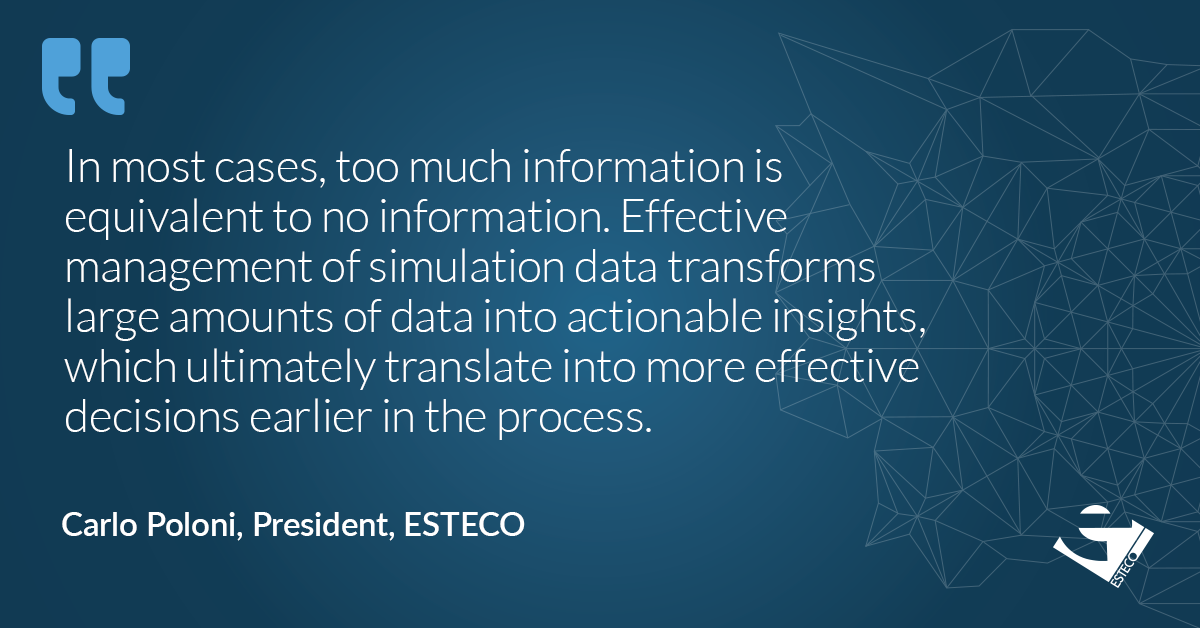 Real-time Collaboration (Breaking silos among engineering departments)

Evolving an idea into a product is a collaborative task that needs the contribution of many specializations cultivated by different people and teams. While in the past the dialog between teams was based on requirement satisfaction, the future will offer the opportunity to share predictive models capable to identify what can be achieved at which cost.
A new mindset

There is a cultural (and organizational) shift to be made: parametric models should be built upfront and subsequently maintained to allow the following design adaptations to be evaluated almost in real-time, leveraging the highest competences encapsulated in the predictive models.
Standardized processes

The adoption of accepted standard process representation is fundamental to guarantee interoperability between different systems. Products are of multidisciplinary nature by definition, so it is necessary that each specialistic area represents their process in a way that others can understand and execute.
Solid Optimization Technology

Optimization technology to autonomously explore and select promising configurations is essential in limiting the search of the design solution to a focused area of interest, maintaining the efficiency of the design process.
'Unlimited' Computing Resources (Cloud-HPC) 

Nearly unlimited computing resources are available through cloud computing and the available datacenters can adapt to the need for resources. Still, some issues with software licenses and related costs may limit in practice the number of parallel instances being executed.
Security (The right compromise between data sharing and data protection)

Last but not least, security and system resilience to support large ecosystems are of key importance for efficient and effective decision making in the digital world. Engineering organizations need to be able to share knowledge in real-time, breaking silos both across departments and geographically.
But they also must protect their intellectual property according to the highest security standards. Allowing for role-based tiered access to company knowledge in a secure web-based environment enables for a more efficient collaboration throughout the design process.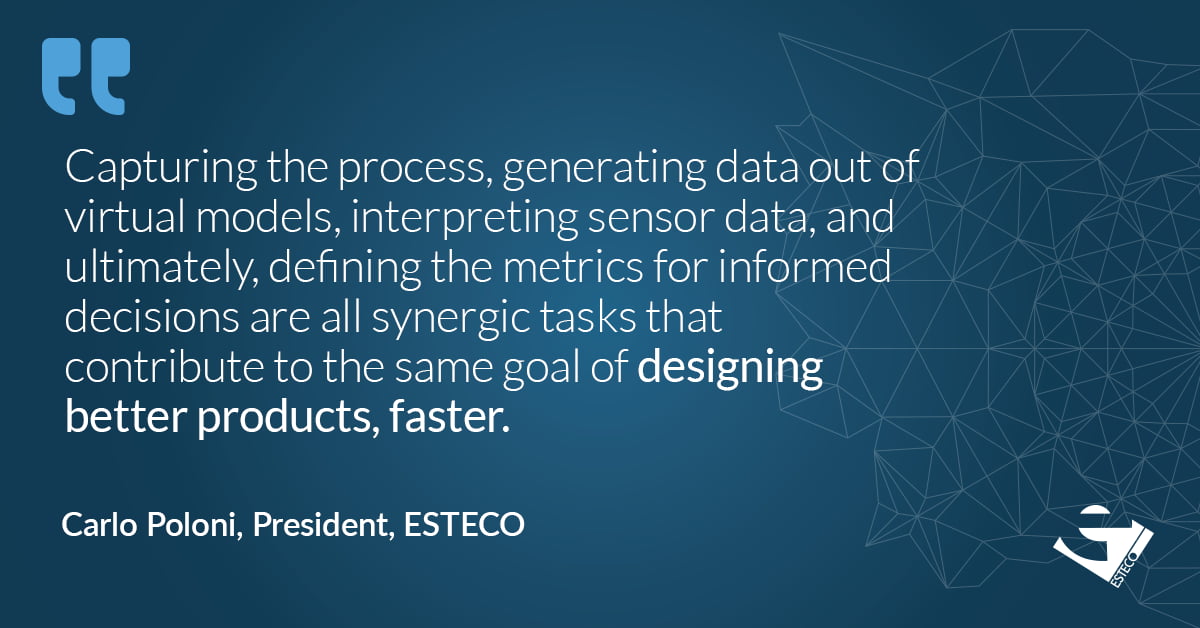 Capturing the process, generating data out of virtual models, interpreting sensor data and, ultimately, defining the metrics for informed decisions are all synergic tasks that contribute to the same goal of designing better products, faster.
Building a state-of-the-art IT infrastructure to enable design teams to pursue these goals has been the mission of ESTECO since its foundation, 20 years ago.
For more information, download the ESTECO Technologies Brochure.