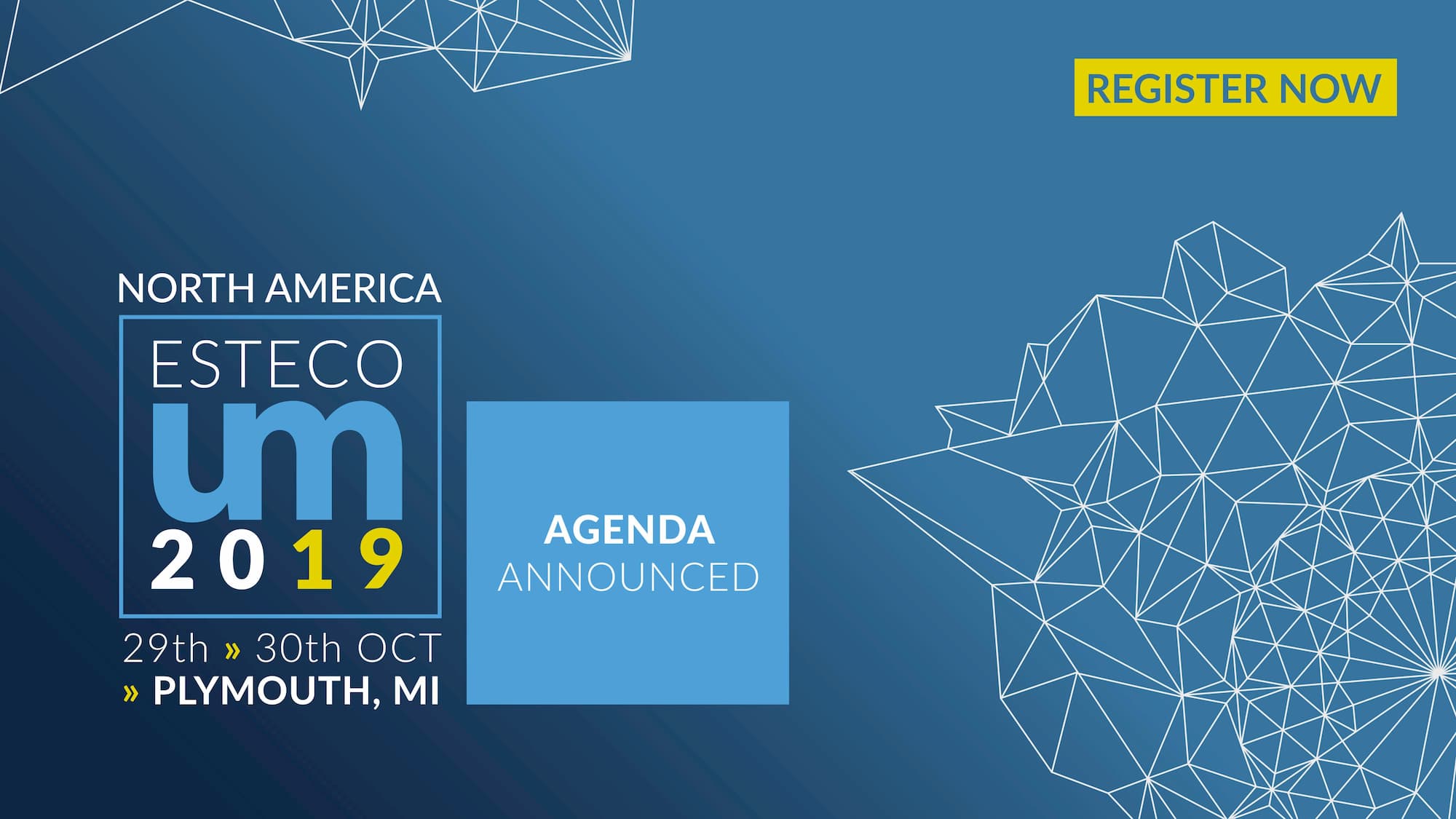 Agenda announced for the ESTECO UM19: FCA, Schlumberger and QMSI join speakers lineup
The full agenda for next month's ESTECO Users' Meeting North America is now available. Join more than 100 modeFRONTIER and VOLTA enthusiasts to share knowledge and learn about the latest applications. Fiat Chrysler Automobiles, Schlumberger and QMSI join speakers lineup that already includes Cummins, Ford Motor Company and  Whirpool Corporation.
On October 29th, a rich agenda of presentations from industry and academic experts will outline advanced application scenarios and success stories featuring ESTECO technology in fields including aerospace, automotive, home appliances and oil and energy.
Cummins takes part in the ESTECO UM19 with two speakers. Wayne Eckerle, Vice President of Global Research and Technology, will hold a keynote speech on "Fueling The Future": how ESTECO Technology for Simulation Data Management and Optimization Driven-Design support Cummins to improve modeling and simulation methods.
Ben Yeh, MDO Technical Specialist, will address the UM19 participants with a talk about Microgrids and Multi Disciplinary Optimization. 
As from the automotive industry, Bill Dowling, Technical Expert Vehicle Architecture & Attribute Synthesis at Ford Motor Company, will explain how ESTECO Technology helps them to perform vehicle architecture and attribute trade space analysis.
Another significant area of application of ESTECO Technology is home appliances. Greg Garstecki, Senior Manager of the Laundry CAE group and Rogerio Rodrigues, Lead Engineer of the Refrigeration CAE group at Whirlpool Corporation, will talk about "How to improve the accuracy assessment of our model predictions".
Also, Laurent Alteirac and Uyiosa Abusomwan, respectively Program Manager and CLG Product Digitalization Architect at Schlumberger will hold a speech on "Product Digitalization for Automated Engineering Workflow & Systems Model".
Other confirmed speakers include Jaspreet Kukreja, NVH CAE Engineer at Fiat Chrysler Automobiles, Jonathan Jubb, Rocket Development Engineer at BAE Systems Ordnance Systems Inc, and Ed Stinnett, President at QMSI.
ESTECO ACADEMY DESIGN COMPETITION AWARD CEREMONY IN PARTNERSHIP WITH CUMMINS
Finally, the agenda includes the award ceremony of the third edition of the ESTECO Academy Design Competition aimed at engineering students. Cummins will award the FESB Energetika team from the University of Split (Croatia) who won the competition by performing a comprehensive optimization of a hybrid microgrid to provide energy supply to a manufacturing facility.
On day two, October 30th, attendees will have the opportunity to take part in free training courses, get hands-on experience with ESTECO technology and learn about the latest VOLTA and modeFRONTIER features and advancements.