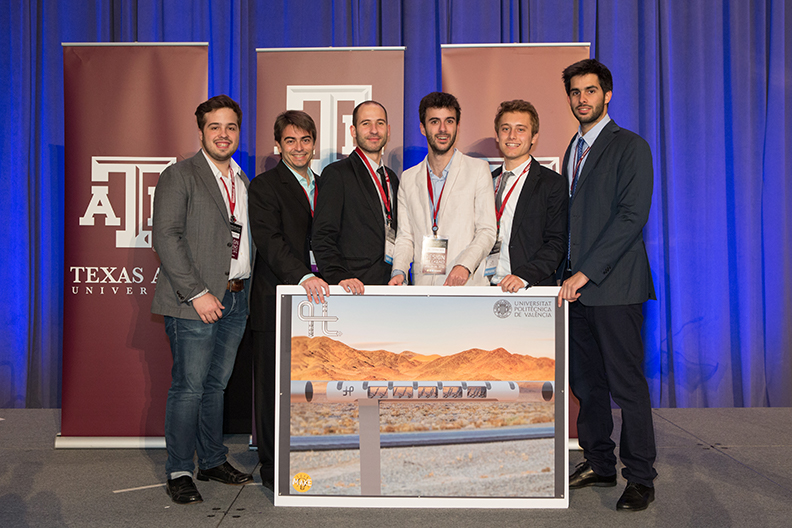 ESTECO sponsors Hyperloop Makers UPV
We are extremely proud to sponsor the Hyperloop Makers UPV team from the Universitat Politécnica de Valencia in the next phase of Elon Musk's SpaceX International Challenge!
The team had already won the Top Design Concept and the Propulsion/Compression Subsystem Technical Excellence awards in the first round of the competition, which aims at perfecting the revolutionary land transport system driven by compressed air, capable of arriving from Los Angeles to San Francisco (600km) in just 30 minutes.
For their winning project, the Hyperloop Makers UPV used modeFRONTIER to select the best design in terms of travel experience, while maximizing energy efficiency and accelerating the development time. Satisfied with the experience, they plan to continue using ESTECO technology in the second round of the competition. 
"modeFRONTIER enabled us to obtain a family of optimum solutions for a range of inputs in a mere fraction of the time that would be necessary with a traditional approach" said Germán Torres, the technical director of the Hyperloop Makers UPV team.
"We are now developing a small levitation demonstrator for the next phase of the SpaceX international challenge and we plan to use modeFRONTIER to optimize our new Hyperloop design proposal", Torres concluded.
Whereas the majority of the competing teams opted for passive magnetic levitation or designing the passenger pod suspended on air bearings, Hyperloop UPV developed a system that enables levitation through the magnetic attraction of the pod to the top of the tube. This rail-free solution saves up to 30% on Hyperloop tube construction costs. Read more about their project.