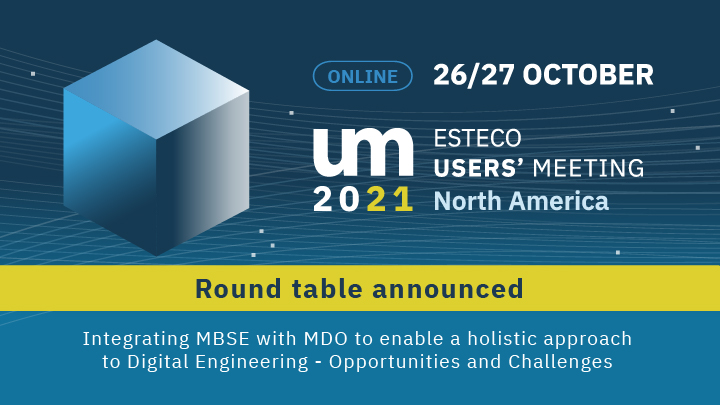 ESTECO UM21 North America - Round table announced
As part of the ESTECO Users' Meeting North America 2021 taking place virtually from 26 to 27 October 2021, we'll host a round table titled "Integrating MBSE with MDO to enable a holistic approach to Digital Engineering - Opportunities and Challenges" on 27 October at 10:00 AM US ET. Our President, Carlo Poloni, is going to chair the session and moderate the discussion among a few experts from the Automotive, Aerospace and Consumer Appliance industries and an independent consultant with a focus on systems engineering.
The round table is going to start with an attempt to dive into the key question for many engineers today: "Why Model Based Systems Engineering (MBSE)?". This helps us setting a context of the importance of systems thinking for design of complex products and processes and its role in the engineering digital thread. The following discussion is going to explore the value of System Models and Physics based Simulation Models and their interactions. Industry experts are going to explain the importance of this model interaction and how an enterprise enables these by not only using the right engineering tools but also enabling the right organizational culture.
The speakers are also going to focus on the value of Multidisciplinary Design Optimization (MDO) techniques enabling requirement driven design by instituting a culture of conducting objective trade-off studies from early stage design in the digital thread. Finally, we're going to cover on the concept of Authoritative Source of Truth (ASOT) in the digital thread and how traceability and data management principles would help enterprises reach their vision of ASOT in their engineering digital threads.
Darcy Allison from Raytheon Technologies, Praveen K. Poojary from Whirlpool Corp, Benjamin Yeh from Cummins, Greg Garstecki are going to drive us into the MBSE world.
Register now to join all the sessions at our virtual Users' Meeting on 26 and 27 October 2021!