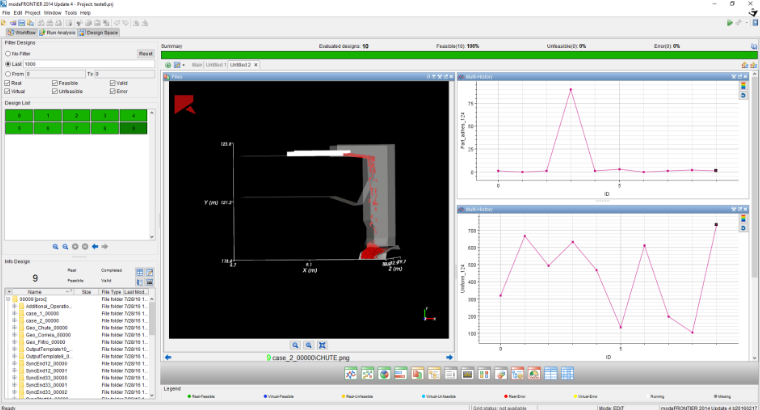 New integration coupling modeFRONTIER with Rocky DEM announced
ESTECO is proud to announce that users of process integration and optimization software modeFRONTIER and Rocky Discrete Element Modeling (DEM) software will now be able to couple the two software with a new integration node.
The ESTECO platform provides a multiobjective optimization environment for users of the Rocky DEM particle simulator. Rocky uses Discrete Element Modeling (DEM) to predict the behavior of bulk solids and aids in the efficient design and optimization of material handling equipment and processes.
Rocky DEM is capable of simulating realistic and concave particle shapes, particle breakage, boundary surface reduction due to wear, sticky and dry material contact laws, multiphysics, and more. Its explicit DEM solver uses either multi-core CPU or GPU processing that drastically reduces computational run times.
With the new integration node, linking input and output parameters related to material properties is now effortless. Users just need to drag and drop Rocky parameters into the modeFRONTIER workflow. After creating an initial DOE, the user can select and exploit the most suitable optimization algorithm, that will automatically drive the simulation process to optimize a given geometry. modeFRONTIER advanced optimization and process automation capabilities lead to optimal design solutions in shorter time.
Read how his methodology has been already applied to optimize the chute geometry in order to prevent the unbalanced mass flow at the outlet conveyor. 
READ MORE Optimization of a conveyor transfer chute including particle flows